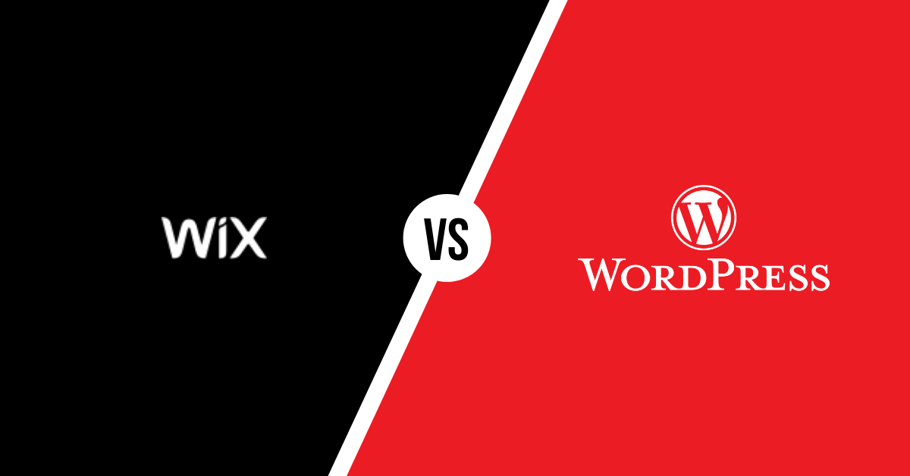 Are you still confused about which website design platform to choose?
When it comes to building a website, Wix and WordPress are 2 of the most common choices - whether it's because of their popularity, ease of use, themes or pricing.
In this article, we'll analyze 6 crucial differences between both to help you choose the right website builder.
You'll learn the pros, cons and our verdict on each differentiating factor to make an informed choice.
1) Design Templates
Every business wants to stand out and establish their unique brand identity.
To make this possible, website builders like Wix and WordPress give their customers access to libraries of templates and themes.
Wix comes with more than 500 readymade designs written in HTML5 along with in-built tools to help users customize their websites based on their personal preferences.
Moreover, there's a wide variety of themes for different uses - from ecommerce to art and beyond.
WordPress also has a variety of themes that range from ecommerce to personal with most themes supporting advanced customization with their robust CMS (and otherwise)
Free themes are available on WordPress.org but they may be slightly limited in what they have to offer.
Whereas, paid themes are available on theme shops like Themify and come with more features.
Our Verdict
WordPress has a greater variety of themes and design layouts compared to Wix and gives users the ability to switch themes if they aren't satisfied with the one they chose, unlike its rival.
---



2) Cost Comparison
Building a website isn't a free affair. It comes at a cost.
That's why, it's important for businesses to take into account all the necessary expenses to ensure it's within their budget.
Wix does offer a free website builder, but that comes at the cost of adverts being displayed along with the handicap of not having your own custom domain by default.
In other words, your free Wix website will show up as username.wix.com/sitename
In addition, Google Analytics, ecommerce and other add ons aren't guaranteed to be part of the free plan.
If a user wishes to remove ads and get access to all features, he/she needs to upgrade to the premium plan on a monthly or yearly subscription.
WordPress on the other hand requires the user to have domain name and web hosting on his/her own.
It also offers various hosting providers like Bluehost that costs two dollars and seventy five cents monthly.
The higher premium plans and plugins the user decides to apply for, the higher will be the cost.
To get a greater insight on this you can check out how much does it cost to build a WordPress site
Our Verdict
WordPress has a greater variety of plans for users to choose from so that allows greater consumer choice.
The expense of running the website and its visual design falls entirely on him/her.
---
3) Better Blogging
Both these website design platforms can be used for blogging.
Let's get into further detail on this differentiating factor.
Wix has all the features needed for a blog at the minimum level such as tags, categories, images and videos.
However, it lacks the ability to make private posts and backdating functionality.
It uses a plain text editor as its writing interface which happens to have only a few writing options.
Unlike WordPress, Wix doesn't have it's own commenting system but makes use of Facebook comments instead.
That however isn't portable on the interface.
WordPress on the other hand has almost thirty three percent of websites using it for blogs.
It comes with many options for customizing blogs, including plugins and various tools like the Gutenberg block editor.
It even comes with a native commenting system of its own which is a much needed basic feature for blogs.
Our Verdict
Wix lacks certain basic but necessary features that are part of blogs.
Since WordPress first started out as a platform for blogs it already had all those needs covered from the beginning.
Hence WordPress would likely be the better choice.
Our Senior Interface Developer had this to say about Wix vs WordPress: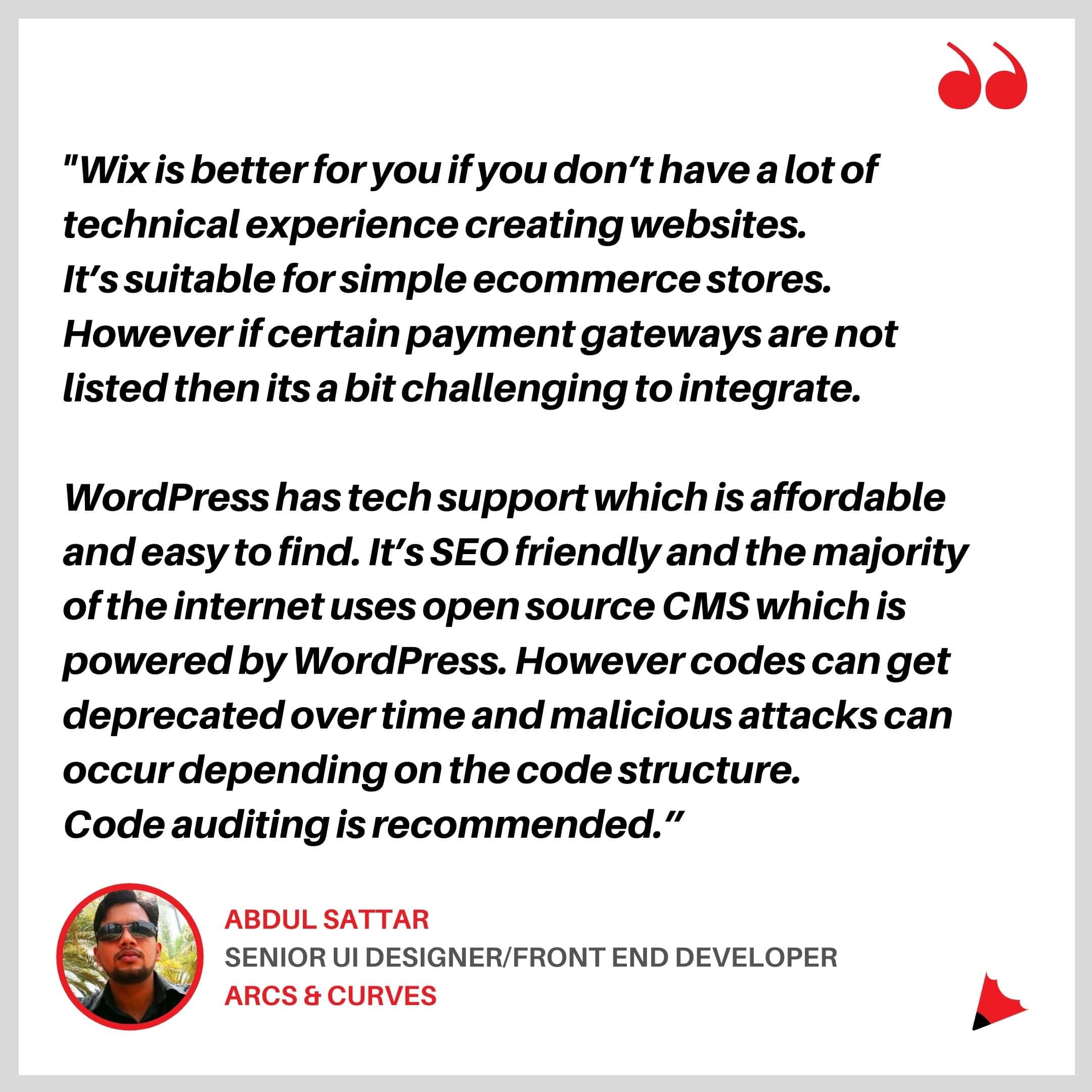 ---
4) User Convenience
Website builders are increasingly catering to self-starters with zero coding experience.
In this aspect, both Wix and WordPress have invested time and resources to make their user experience simpler and convenient for non-coders or those on a budget.
Wix gives users the ability to drag and drop selected elements all across the site and also gives users the ability to restructure the images and content on their pages.
It proves convenient to the user as no prior coding knowledge is required for this.
WordPress, unlike Wix doesn't have an in-built drag and drop builder.
But it does provide a larger variety of customisable themes and visual editors for users to restructure their content as per their preference.
Understanding the layout and content management system of WordPress can help make the experience even easier for users.
This involves understanding the visual editor, navigation menu and other slightly technical back-end elements.
Our Verdict
Wix wins this round as it proves easier to use.
Users don't need to install plugins or make a significant effort to learn about the website layout as everything is very simplified and right in front of them with a drag and drop option.
However, users willing to go the extra mile into learning WordPress can benefit from page builder plugins like Divi and BeaverBuilder.
These page builders open doors for new customization and design possibilites.
---
5) Plugins and Apps

These are third party extensions that users can use as add-ons for further customization.
In Wix, they're known as apps and in WordPress they're referred to as plugins.
Wix has more than a hundred apps which cater to a variety of needs such as social media buttons, gallery, contact forms etc.
Most apps are free but there are a handful that come with a price tag.
These add-ons help users take care of the basics of website design by themselves.
Meanwhile, WordPress comes with more than 50,000 plugins in its plugin directory alone known as WordPress.org.
Advanced features plugins are also available at their market place but come with premium prices.
These plugins empower users with features such as building membership websites, creating contact forms or selling courses online.
These too, come in paid and free options.
Our Verdict
WordPress wins this round as it has a much greater variety of plugins that suit almost any need imaginable for a user designing his/her website.
It has a far greater choice of customizable features, which means more convenience for users.
---
6) Ecommerce Functionality
One of the most important business objectives of a website is to sell online.
So, here's our take on the e-commerce capabilities of Wix vs WordPress.
Wix doesn't grant ecommerce access to users with free plans.
WordPress comes with various plugins that can help in selling any type of products - from to subscriptions to promoting events.
These plugins also come with their own customizable themes that makes WordPress usually the preferred choice amongst users.
Furthermore, WordPress has its own online store known as WooCommerce which runs more than forty percent of all ecommerce sites across the globe.
Our Verdict
WordPress seems to offer more convenience to users by offering them greater choice and freedom of plugins which can help increase the growth of the ecommerce stores, as compared to Wix.
Hence this round also goes to WordPress.
---
In Conclusion
WordPress proves to be the better choice in most cases.
Although Wix does beat WordPress in areas such as its website builder, offering greater convenience to users because it's easy to use, WordPress wins in all other areas.
We hope this article helped you make an informed decision about choosing the right website builder.
Here are some additional resources for further reading: