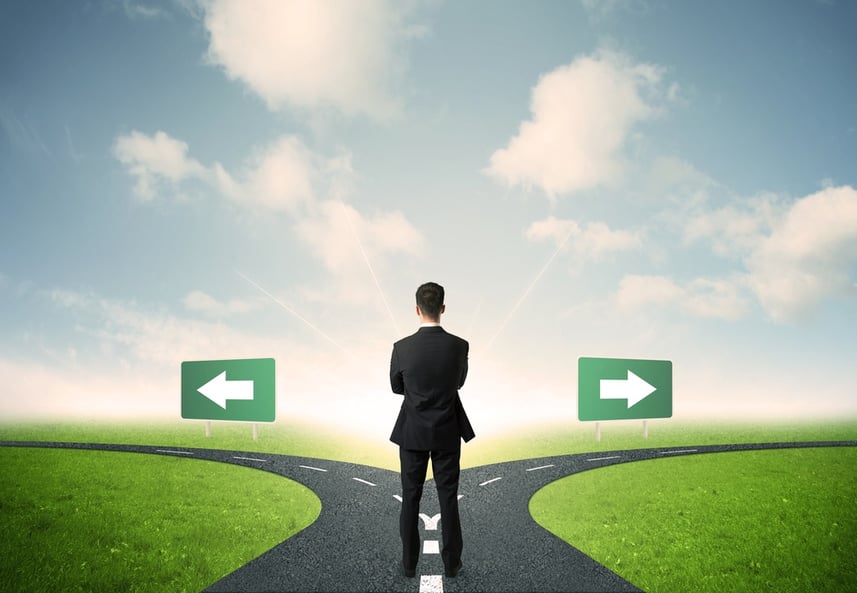 Every business owner is surrounded by choices -
Choice of a name for the company;

Choice of the logo;

Choice of the office location;

Choice of the personnel;

Choice of suppliers and partners;

Choice of the right CRM system;
Choice of what suit to wear at the next business conference;



and so on..
The decision behind each choice listed above is backed by logic, data, facts, trends, feasibility and eventually, gut feeling.

One important choice many businesses don't make is the social network they should be active on. After all, it's as important to have an online presence as much as it is to have an offline one.

Social interactions and buyer relationships are more complex in the context of B2B firms as compared to B2C firms, and that's why a significant fraction of your business' success depends on the decisions you take to choose the right social media platform for your B2B business.

Is B2B social media marketing really worth it?

Ofcourse, it is!

Why would you want to lose out on the opportunity to connect with hundreds and thousands of fans & potentially valuable contacts and customers?

3 advantages that B2B businesses can have if they're socially active online:

Brand awareness: Although the target audience might be distributors, resellers or dealers, an active social media presence can boost awareness in the market in order to create appeal and demand for products and services. You, as a B2B brand, cannot function while being invisible to a majority of the public who consume social media on a daily basis;


Content-sharing platform: Pushing out valuable content such as blog posts, videos, and infographics provide you the opportunity to establish your company and its employees as experts in your industry. Social media is an excellent medium to create, push and promote content related to your industry, products and services;


Interact and build brand image: Growing your social media fanbase and being active can do wonders for your brand image and top-of-mind recall. By creating interesting content, contests and posts, you can interact with more people and understand them better to create more in-demand content. You can join a broader conversation within your niche, ultimately driving traffic to your website and social platforms.
So, how to choose the right platform?
You need to understand that the social media networks that work for a B2C firm need not (and might not) work for a B2B firm. That's because, you're not dealing with end customers. You are dealing with firms and other businesses and therefore choosing the right social media platform is crucial.

In broader terms, there are 2 ways of determining the right social media networks for your business:
Watch what other B2B brands are doing; or

Research and find out your own way;


1) Watch what other B2B brands are doing

There's a wealth of data available from B2B marketers who regularly test and analyse various platforms that are best suited for Business-to-Business brands.

Content Marketing Institute/Marketing Profs have published this self-explanatory chart about which social network should B2B marketers pursue to digitally grow their brand.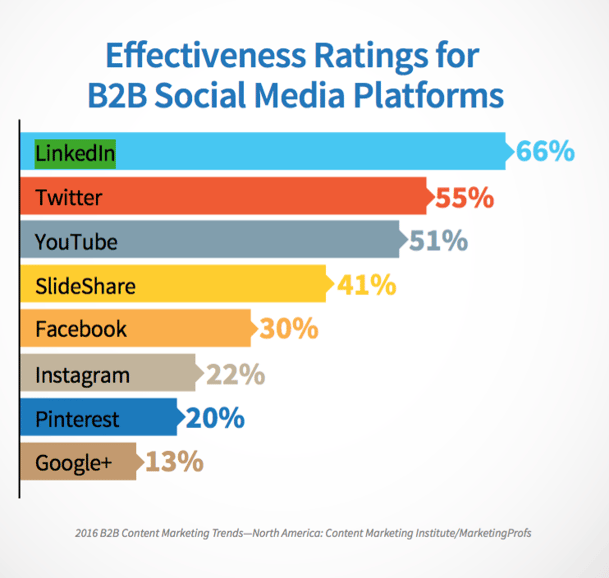 If the question was "Which is the right social media platform for your B2B business?", this graph would tilt in the favour of LinkedIn and Twitter as the answer to it.
In a nutshell,
"LinkedIn is the most popular social media channel among B2B businesses, with 94% of those surveyed using it.";

"Respondents cited LinkedIn as the most effective social media platform.";

"Based on these studies and others, LinkedIn and Twitter should be your first two social media channels for B2B marketing. They are the most often used and deemed the most effective channels by B2B marketers.";
2) Research and find out your own way
Being active on the wrong platform is as ineffective as being inactive on the right one. That's why we always stress on research-based decisions to aid the social media network selection process. You need to look for signs that indicate social media activities prevalent among your target audience.
Try observing the surroundings of your target market and create a roadmap for your objectives.
Find answers to questions such as:
"Where do my customers and prospects congregate on the Internet?";

"What channels are my competitors and industry leaders active on";
Use social media monitoring tools such as Social Mention, Social Searcher and Uvrx for additional help.

Apart from that, start analyzing the demographic and geographic information available about the most preferred social media networks. By using analytics and website traffic reports, you can obtain more clarity in understanding which platform is best suited for any given industry.

Not only will these measures help you build a solid foundation in choosing the best social media networks, but they will also be helpful in generating interesting content at later stages of your marketing funnel.

Your main objective is to be found where your customers are assembling. The nature of your industry and target audience are key factors in helping you find the right social media platforms for your B2B brand.

The most popular network doesn't have to be the most effective one when it comes to B2B marketing.

The way forward:
To choose the right social media platform for your B2B business, here's what you can do with immediate effect:
Review your company's existing social media platforms;
Analyse and take down notes about number of posts, their consistency, content type, message tone, fan/follower reactions, and so on. By doing this, you would already get a clear idea of which networks aren't friendly enough for your brand;
Indulge in research to find out your target market's frequent networks using surveys and web analytics. You could go one step further by incorporating customer service calls or in-person visits for an even more quantitative and qualitative feedback;
Gather your entire firm's content creation resources such as copywriters, videographers, designers or art directors. Find out which content is suited for which platform and create content accordingly for better appeal and a stronger industry reputation.



And finally, always remember to test and evolve your social media tactics based on existing trends and the industry you're in.
---
BONUS ARTICLE:
If you're a restauranteur, you might find this proven Restaurant Social Media Marketing Guide, quite helpful.