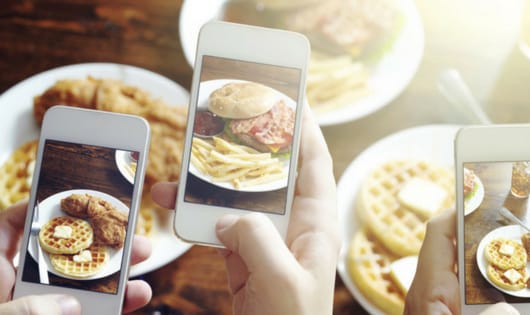 Social media marketing is, no doubt, the most powerful digital marketing tool for promoting your restaurant. If you have a robust brand vision accompanied by a clarity of target audience, the right messaging, and a consistent yet adaptable content calendar in place, you can dominate the digital arena for quite a while.

"As you sow, social you reap"

The amount of planning, effort, creativity and persistence you put into your restaurant marketing will help you reap the fruits of a magnified social media presence.

If you do it right, your restaurant can even set benchmarks for others to follow and measure their progress against. But to reach that level of brand awareness and market domination, you need to start somewhere.

Some of the best attributes of social media marketing are the flexibility to create customized campaigns for set audiences along with the ability to measure performance through detailed analytical reports.

Especially in Dubai, with multiple eateries popping up around the corner very often, it becomes very crucial to have a unique social media identity to avoid your restaurant getting lost amidst them. To achieve this, you should focus on the images you post, the language you use, the frequency with which you interact, and the overall social media marketing strategy itself.

As a restauranteur, you can create online communities and communicate with them regularly via various social networks. The best platforms in your case would be Facebook and Instagram, with a special shoutout to Snapchat which is gaining immense popularity among food lovers and the younger crowd. We recommended these 3 social media platforms due to the nature of content and fan behaviour. The possibilities to generate great content is almost endless, so make sure you do your best to exploit these highly interactive social platforms.

To get started, here are 9 proven techniques that always work in growing your fanbase:
Create a Facebook, Instagram and Snapchat Account:
Use the same username to maintain uniformity across platforms. Fill up the page sections with content relevant to your restaurant including details like cuisine, location and contact number, etc wherever applicable;

Use a LOT of Pictures:
These platforms respond well to original content, mainly pictures of sizzling food items, fresh off the stove, decorated on the table and clicked from a nice angle. Your pictures are your unique selling point - invest time in this for maximum content generation.



Bonus tip:

On Snapchat, upload videos of "preparation-in-action" to show glimpses of the sophistication involved in creating your best dishes. We also recommend posting snaps of the food, the restaurant, ambience, surroundings, menu board (chef's pick for the day), etc.

Hashtags:
Create a few unique hashtags for your restaurant and use them in conjunction with well established and famous foodie hashtags to gain traction and organic followers. The key factor here is to get noticed within communities who are using trending hashtags intensively.

Post pictures of Chefs & Staff:
Click pictures of staff-in-action and chefs next to their signature dishes to show appreciation and give a page a personal touch. This kind of content resonates well with your page followers.

Run Online Contests Giving Away Food Vouchers and Tasting Opportunities:
Creating and promoting a freebie on the page helps pull in a lot of organic followers while being a massive hit with existing fans. Giving away food items/vouchers help potential customers try your restaurant and turn into loyal ones if they love the food;

Partner with Local Foodie Apps and Websites:
With the growing popularity of online ordering and food reviewing in Dubai, it's crucial for your restaurant to be featured in the top "foodie-popular" websites and apps. Get registered on top websites such as Zomato, Talabat, Foodonclick, Deliveroo, 24h.ae and many others, for your chance to be discovered among food lovers.

Create Engaging Content and Use Friendly Language:
Don't be too rigid while creating content for your social media pages. Based on the behaviour of your fans, seek a relaxed approach to writing copy and generating ideas for content. The humor, the puns and the grammar are significant contributors to your online personality. Make efforts in creating a unique personality for your restaurant;

Cross-Promote your Website on Social Media and vice versa:
Advertise your website on your social media pages, and do the same on your website to maintain a strong fanbase. This helps in increasing web traffic on both sides, thus increasing your SEO credibility. Use social sharing buttons and link your social media accounts to your websites for a more integrated approach;

Utilize the power of paid advertising:
Facebook, Instagram and Snapchat (and a few other social media platforms) offer the option to run paid ads to boost page content. With the option of segmentation and targeting, it's easier to run ads among people who are most likely to like your brand. These paid promotion options are moderately priced, and give your brand an extra push without burning a hole in your wallet (bank account).
All the above tactics can be included in your social media strategy for an all-star marketing strategy.
To work together on building your restaurant's social media strategy, you can get in touch with us (and we'll take care of the rest).