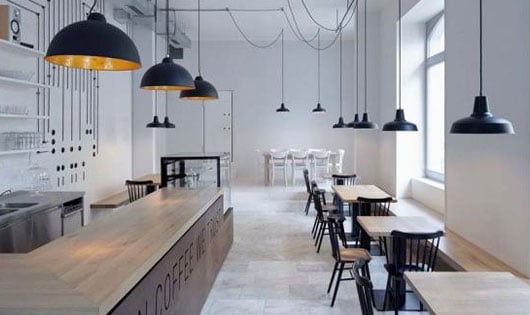 Let us begin by asking a question - how do you recreate the ambience of your restaurant online?
The answer's pretty simple - by designing a website that's as beautiful as your restaurant.
Your website is more than just a collection of web pages under a common domain name - it's your brand's online identity, personality and reference point for visitors.
The theme, look and feel of websites vary across cuisines, target audience, location and history. You must decide what kind of image and vibes you'd like your restaurant to exude, before settling with a design.
With advancements in website designing across the globe, the level of competition among restaurants is cut-throat. In order to establish your brand's prowess, you should choose a design that is equally unique so that it aligns with the restaurant's identity.
We've scoured the internet to bring you a shortlist of what we think are few of the most beautiful restaurant websites on the www. Certainly not an exhaustive list, but we hope you're inspired enough.
Why we love this
As soon as you arrive on the website, you're greeted with a beautiful floral pattern, representing the minimalistic, sophisticated and quiet ambience of the cafe;
As you scroll further, images of the cafe depict its furniture, interior, and decor and vibes;
If you fall in love with the website, you'll definitely fall for this sleek cafe;
Why we love this
If we were to rate this hipster-styled cafe website's responsiveness, we'd give it an 11/10. The amount of detailing and designing undertaken is one of the best we've encountered. The website's home page even responds to the movement of your cursor;
The website has been designed with a first-person's view, making it extremely realistic and natural;
With no glitches and a seamlessly smooth transition from one page to the other, this is definitely one of our favorite website design.
Well-shot images, excellent user experience, and minimal text makes this one of our favorite restaurant websites;
Why we love this
This cafe does at great job at subtly describing the personality of its target audience by using the right pictures;
Along with having a nice logo and a complimenting color theme, this website appears effortlessly cool (although there's definitely a lot of great effort put into designing it)
Pictures of the culinary team and a little write up about them helps in enhancing the friendliness of the cafe towards the website user;
Why we love this
Located at Armani Hotel - Dubai, this restaurant treats guests to authentic Indian cuisine accompanied by live traditional singers and modern-inspired interiors. All these attributes are beautifully captured in this sophisticated website with a minimal word-count.
Using a sleek black theme, this website is able to grasp the attention of elite diners who love to embrace the city's nightlife;
Why we love this
We jump with happiness when we see brands going the extra mile breathing life into their websites. This website immaculately covers the historical theme of the coffee shop, by portraying a very retro, and unconventional feel to it. As you enter the website you're greeted with a bulletin-board-cum-home-page with different items representing the respective sections of the society;
The typewriter-and-steam-engines-inspired theme is marvellously exhibited in the menu page with the right font and background.
This is easily one of the most creative and historical-themed websites we've ever seen;
Why we love this
Their menu bar terms are quite differently coined as compared to most restaurant websites;
We love the "kawaii-inspired" artwork of the little girl and the orange cloud designs;
They made sure to get their multi-city presence known by dedicating an entire right column to promote it;
This Chinese restaurant brand clearly wins at creating it's own unique brand personality. By using bright colors, the website appears vivid and is able to grasp the viewers attention;
Why we love this
This particular restaurant specializes in "Molecular Gastronomy" - which is a style of cuisine where chefs apply the science of physics and chemistry to transform the tastes and textures of food;
Their no-nonsense menu with a clear message stating "Innovative cooking activates the senses" is a no-brainer in understanding the innovative cuisine style;
By using a lot of images and very little text, they're able to stretch the viewers' attention span to keep them engrossed for long;
Why we love this
This restaurant has done a marvellous job in capturing the mood of their customers and using the same as their website wallpaper to portray the chilled-out & happy ambience;
The website is full of life and is quite responsive as you scroll down - there are multiple website sections that appear and hover around the screen as you keep exploring it further;
With a succinctly laid down menu, this restaurant helps viewers find exactly what they're looking for;
Why we love this
The color coordination between the website font and the marble used in the backdrop is stunning;
Since they specialise in seafood, you can find brilliantly shot pictures of seafood items that look fresh, decorated and extremely enticing;
As you scroll down, the fishes in the wallpaper do too - that's 10/10 for responsiveness!
A Subtle design, clear pictures and a responsive template makes this a great contender to win an award for the best seafood restaurant website;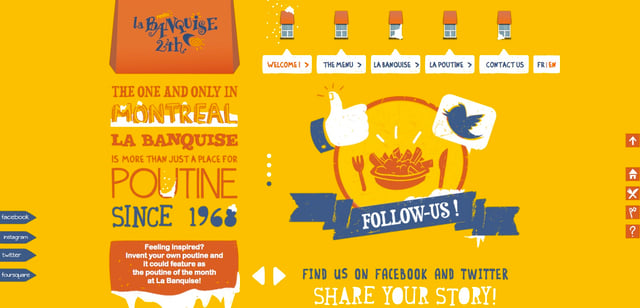 Why we love this
This website design is fun, cheerful and bright, resonating well among the target customers;
Their "infographic-themed" homepage is refreshingly different than the rest of the websites featured in this list;
Anyone looking to connect with their social media pages can find all the relevant platform links on the left, thus increasing the convenience quotient;
Do these delicious websites make you want one of your own? Then, you're in the right place.