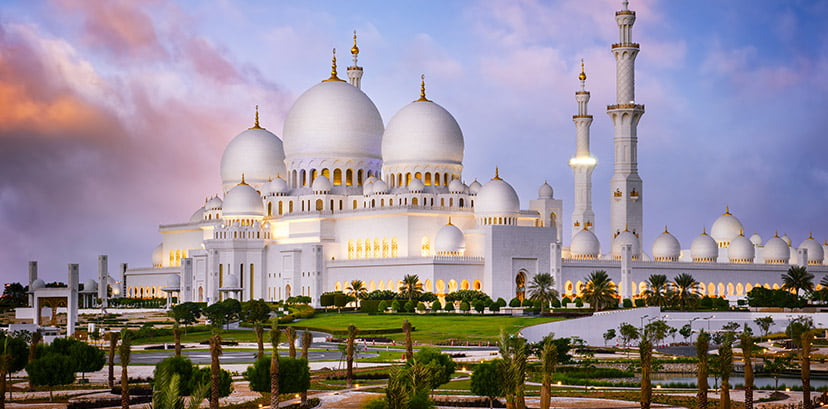 Ramadan is the holiest month of the Islamic calendar that begins in April 2021.

It's also one of the biggest marketing seasons around the world with its highest active core lying in the Middle East & Asia Pacific region.
What's fascinating about this month is the generous display & practice of humane values such as compassion, charity and empathy.
While everyone strives to inculcate the spirit of Ramadan among themselves, marketers & brands get busy trying to capitalize on the advertising & promotion opportunities that the month provides.
The month brings about a complete change in the patterns of consumption, not just in terms of meals but media as well.
Starting early will give you a head-start to better understand your target audience, formulate the right strategy and develop creatives that'll appeal to them on a whole new level - especially in pandemic - stricken environment that we find ourselves in today.
In many ways, Ramadan 2020 had a digital twist.
It wouldn't be wrong to call it the Most Digital Ramadan of All Time.
That's because Ramadan coincided with the rise of the pandemic, drastically affecting the way Muslims observe Ramadan and celebrate its festivities.
People turned to the digital world to connect together to avoid the risk associated with traditionally large gatherings and communal prayer.
Getting into the Ramadan spirit online led to a 16% year-on-year growth in "better with Ramadan" search queries in the week leading up to the holy month.
Within homes across the region, content consumption and online shopping were on the rise (which is quite the trend in Ramadan across MENA)
Last year was a big year for home baking — something that caught up faster during Ramadan.
Google's reports suggest that:
Searches for quick recipes, like 10-minute biscuits, grew 1000% week-on-week during the holy month as people sought new ways to make traditional favourites online.

What can we expect this year? Keep reading..
This article contains research compilation and recommendations from top marketing platforms like Google, YouTube and Facebook to help you understand the complete change in social media marketing during Ramadan.
It's divided into 4 parts as follows:
Social Media Consumption Changes


The 4 Phases of Ramadan


Campaign Strategies & Tips


Campaign Examples from Top Brands
It's about time you plan & finalize your Ramadan marketing campaigns for social media before it's too late, leaving you scurrying around for customers.
So, by the end of this generously-written article, you'll be able to conceptualize & execute social media campaigns that fully capture the interest of your target audience.
Approach the month with a new mindset, the one that places the essence of the month at its core to guide all the ideas for your social media content.
Let's deep-dive into each section.
1) Ramadan Social Media Consumption Changes AMIDST COVID-19:
Given the current circumstances, social media behavior has changed immensely since 2019.
41% of people in the UAE increase spending during Ramadan, and Twitter reports that during Ramadan, 83% of consumers are open to trying new brands and products.
Research from YouGov shows that 53% spend more, 40% search for offers, and 49% of consumers prefer discounts during Ramadan.
In fact, searches for Ramadan are as high as those for Black Friday, which is MENA's biggest online shopping moment.
To quantify this shift in social media consumption in Ramadan, here are some insights compiled from a multitude of resources, e-books & research articles.

I've segmented this data for 3 of the most used social media platforms: Youtube, Facebook & Instagram.
There are plenty of other miscellaneous statistics, but I prefer not to confuse you with too many of them so I've listed the most relevant ones.
Here are some stats for YouTube's Ramadan social media consumption:
Consumer spend increases by 53% overall during Ramadan;


This increased spend is mostly on household goods (90%) followed by food, & festive gifts. (source: Google Insights 2018);
According to a research by Google, the average "watchtime on YouTube for cooking videos starts to increase steadily a month before the start of Ramadan, and peaks at almost 30% higher than average in the first week of Ramadan";
Searches for recipes also spike 50% higher than the annual average, especially at the start of the month;


During Ramadan, your potential customers watch more of longer format videos - with a 60% year-on-year growth.

Contrary to popular beliefs, the average ad length in the top 10 Ramadan leaderboard was 4.5 minutes.


Audiences spend longer periods of time on mobile with an increase in organic viewership of advertising content (provided you make it interesting)
Video views that are part of a playlist increase 37% during Ramadan (vs pre-Ramadan) and continues to increase an additional 50% after Ramadan (vs during Ramadan)
YouTube reported that in Ramadan, viewers are actively interacting with likes increasing 447 percent;
sharing rising by 228 percent; comments increasing 431 percent; and subscribers spiking by a whopping 490 percent;
---
Facebook & Instagram: Ramadan content consumption & trends:
86% of people on Facebook in the Middle East celebrate Ramadan;



69% of people in KSA use Instagram to search for gift ideas and 70% of UAE use Facebook to do so. (Data source: Facebook)
According to an article by Khaleej Times, social media usage peaks at 3am during Ramadan amongst Facebook's 152 million Monthly Active Users in MENA;


Here are some people insights from Facebook's latest Ramadan research: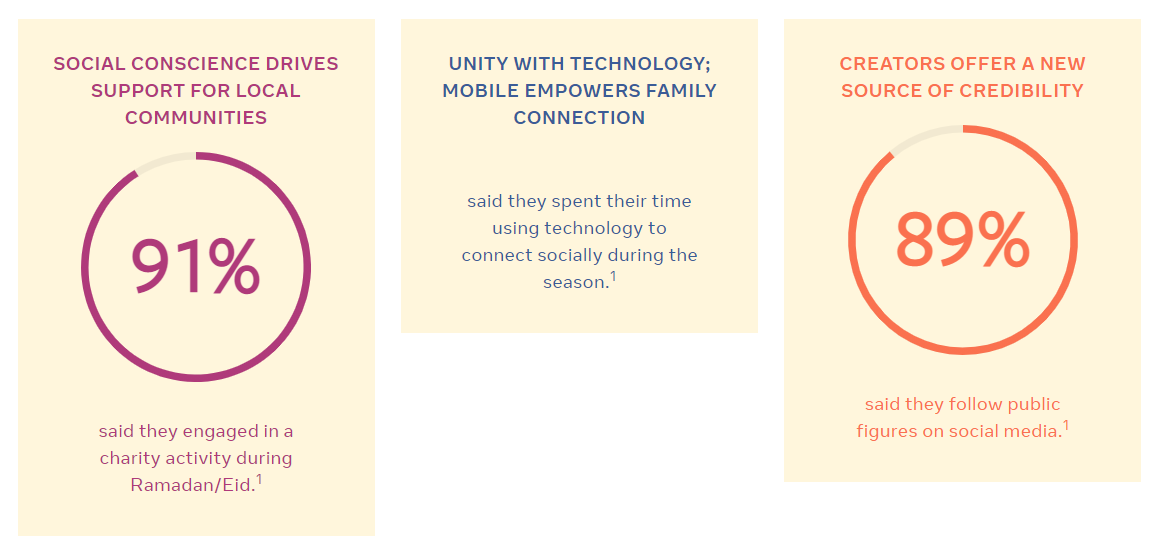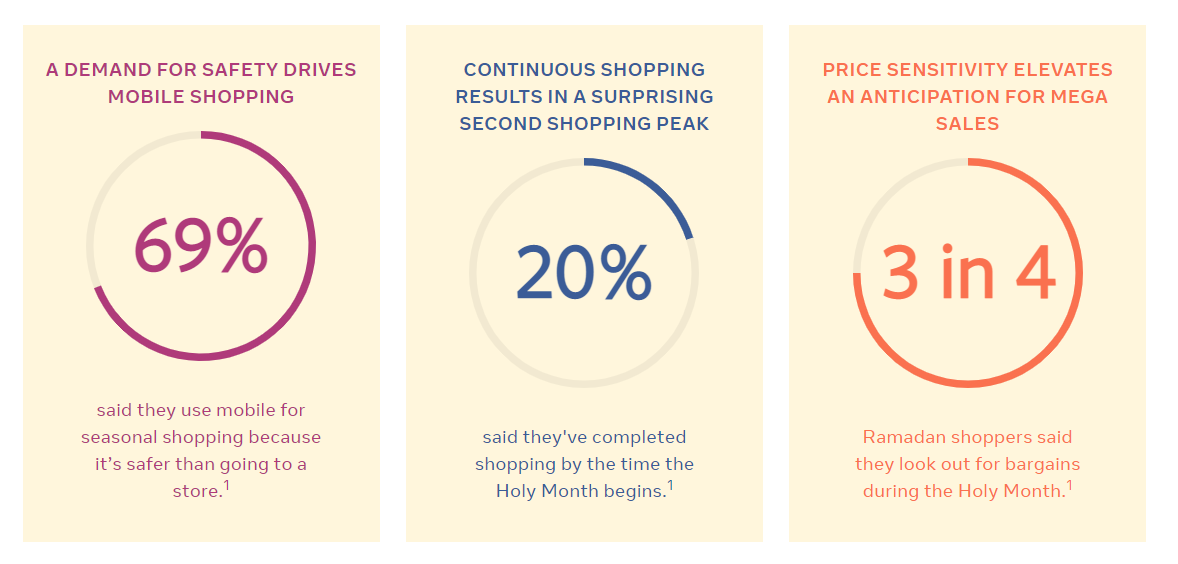 Since people consume more video content in Ramadan, your brand can benefit by running video ads to meet the rising demand for it;
The spirit of gifting increases dramatically towards the end of Ramadan (the 4th week).

70 per cent of people in the UAE say they rely on Facebook for gift ideas;

That's why Facebook & Instagram are the perfect platforms to run ads inspiring people to start gifting; changing the angle of your messaging to focus on gifting during this time;


Online shopping occurs regularly during the day, but 3 am is the optimum time for Facebook usage during Ramadan.

Being a social media agency, we believe that people are also online during suhoor & iftar timings for sharing their dining experiences, wherever they are.

That's why, 7pm & 3am are great opportunities to be present online;
Due to the increasing connection between growing consumerism & Ramadan, there's an average increase of 20% in advertising budgets.

And since the demand for ad space peaks during the month, it's vital for advertisers to choose campaign objectives that provide them with the best ROI.
---
You can open the image in a new tab or download it to view at a bigger scale.

A more detailed breakdown of these phases can be found here.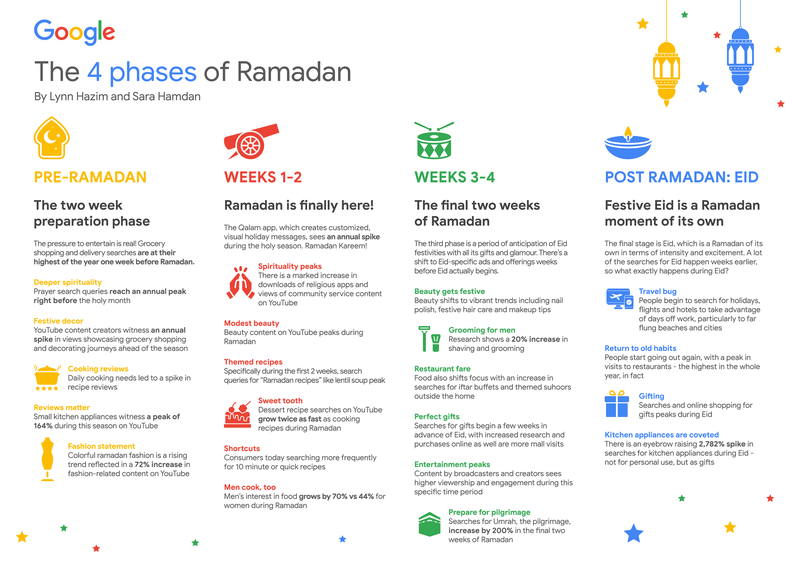 ---
3) Campaign Strategies for your Ramadan Social Media Marketing:
Once you've understood the change in media consumption during Ramadan, it's time to gather some ideas for campaigns and devise overall strategies to guide your advertorial efforts.
As demonstrated in the stats earlier, online activity increases dramatically in this time period, resulting in ample pressure on brands to make the most of this month.
So, here are some Ramadan campaign ideas & strategies that you can implement for your brand:
Choose Story-telling over Advertising:

Create campaigns that resonate with the spirit of Ramadan and feel more personal than advertorial.

Remember, it's the month of giving so promote values such as charity, generosity, community activities and devotion.

When your brand launches a socially-favored campaign and invites the participation of your fans, you have the best chance to connect with them on a more personal level.

In other words, your brand gets to live with its target market by breaking down, otherwise complex barriers and instead embracing the true spirit of togetherness.

One great example of this is Surf Excel's "Helping someone is also a form of worship" ad that left a majority of viewers teary-eyed and emotionally connected.

For more awesome Ramadan video campaigns, check out this compilation by Social Samosa.
---

Run Integrated Online Campaigns:

As suggested by ThinkMarketingMagazine, Brands who can afford television spots & social media advertising have the perfect opportunity to run successful festive campaigns that have a 360-degree reach.

Remember, 80% of people are on their smartphones while watching TV – and more people watch TV during Ramadan, so align your social media campaigns accordingly by focusing more towards the evening slots as it's more popular & at its peak as compared to the rest of the day.

Although the cost of television spots increase due to the basic laws of economics (demand & supply), Youtube maintained the same cost-per-view & view-through rates as they did other months (Google).

You could consider promoting teasers & ads on Youtube to advertise your television series & programs because of an increase in social media usage.

Sources also suggest that Facebook is a great avenue for sponsored video content by providing an 8% increase in reach for integrated campaigns;
---

Take Advantage of the Festive Nature of Ramadan while Respecting Safety Regulations:



If you're into the fashion & e-commerce industry, Ramadan will be beneficial for making some extra bucks.

While restaurants and cafes have restrictions on the number of guests, focus on messages promoting safety and social-distancing.

If you really want to stand out, encourage customers to reduce food wastage and instead pass it over to the less-privileged.

Although E-commerce websites might suffer a slump in the initial weeks, there will be a noticeable increase in website traffic and sales towards the end of the month.

Food-related ads garner positive reactions because people tend to search for pre-Ramadan recipes online as per Google.

During Ramadan: "Capitalizing on the public's increased consumption of YouTube content, mastheads and videos on YouTube effectively communicate brands' messages during Ramadan," Google said.

Locally-based brands such as Al Marai as well as international brands such as Coca-Cola seem to have benefitted greatly from Youtube campaigns that promote the spirit of Ramadan instead of their respective products.

Here's some solid advice for retailers to prep up their Ramadan marketing activities.
---

Segment your days with Tailored Messages:

Each day of Ramadan is divided into 2 parts: Pre-iftar & Post-iftar.

Keeping that in mind, schedule your ads with specialized messages for each day part to maintain content relevance and optimum engagement.

If you're a restaurant, your pre-iftar ads could promote your iftar offerings while your post-iftar ads could promote your suhoor offerings.


---

Optimize your Advertising Budget and Bids:

In Ramadan, there's a 200% increase in Facebook usage between 2am & 5am with 400% more conversions at 3am.


Book your Facebook reach & frequency campaigns as early as possible to pay the pre-Ramadan ad costs instead of inflated rates.

Make sure to use Facebook's inbuilt rules to increase your bids or budgets by 10% between 3pm & 6am.

With a tough competition in the advertising space, people will have a higher propensity to buy in many categories, so ROI would also increase.


Expect cut-throat bidding between brands so aim for slightly higher bids to get more visibility and if all goes well, a desirable ROI.
---

Be a part of Ramadan Conversations:




Twitter provides a great advantage to brands with the help of its Trending Hashtags.



In this example, witness how souq.com has created a themed hashtag called #WelcomeRamadan that'll resonate with both - customers & non-customers alike.

It helps you become a part of existing conversations happening around the world.



Further to that, Ramadan conversations on twitter saw an 88% increase in 2016 as compared to 2015.

Use hashtags in alignment with the key messages that your brand wants to put across.

Bonus Tip:
Add a branded emoji to give your hashtags more visibility helping it stand out in people's timelines.



One of Ramadan's favorite brands, VIMTO is famous for creating unique hashtags that capture people's attention leading to increased engagement on Twitter.

VIMTO ran a campaign using the hashtag خلنا_نجتمع# that encouraged people to actively engage with the brand.





They even added a Vimto bottle emoji that further boosted the social aspect of the brand.




With adequate promotion, It resulted in 40 million impressions and 3 million video views, reaching over 3 million people in the region.
---

Don't forget Eid ul Fitr.



Towards the end of Ramadan, as the festive spirit intensifies to welcome Eid-ul-Fitr, advertisers have a great opportunity to create Eid offers & promotions.

This is fueled by an increase in users' shopping intent since it's about time to start gifting and celebrating another important festival.

To get some inspiration for Eid Mubarak ads, check out my article.

It's ranked No.1 on Google for anyone looking for Eid ads, so make sure you don't miss out on it!
---

Add Cooking Shows & Recipe Videos to your Content:

If this falls under your vertical, incorporate video content focused on cooking shows & food recipes.

As per Google's latest Ramadan insights report, watchtime on YouTube for cooking videos starts to increase steadily a month before the start of Ramadan, and peaks at almost 30% higher than average in the first week of Ramadan.


Searches for recipes also spike 50% higher than the annual average, especially at the start of the month.

That's an excellent way to take advantage of Ramadan's social media consumption trends in the region.
---

Team up with Influencers & Digital Content Creators:

With the rise of influencer marketing in the region, teaming up with popular content creators will get you more visibility, as it'll be shared among the audience of each personality.



In fact, a new research by the BPG Cohn & Wolfe Influencers Survey (in association with YouGov) reveals that using social media influencers to drive consumer brand awareness has reached "record highs" within the UAE - especially for those marketers trying to target millennials.

"Brands are now, more than ever before, relying on creative new ways to tell their story . . . and are using social media influencers as a key part of their overall marketing strategy," Avi Bhojani, BPG Group CEO, said.

"The findings from our survey reveal that a majority of consumer brands in the UAE believe that they can reach the right target audience if they work with social media influencers."
---
4) Campaign Examples from Top Brands
In this section, I'll share some of the best & most creative Ramadan ads by brands all over the world.
Look attentively because you might just find an inspiration for your next winning ad.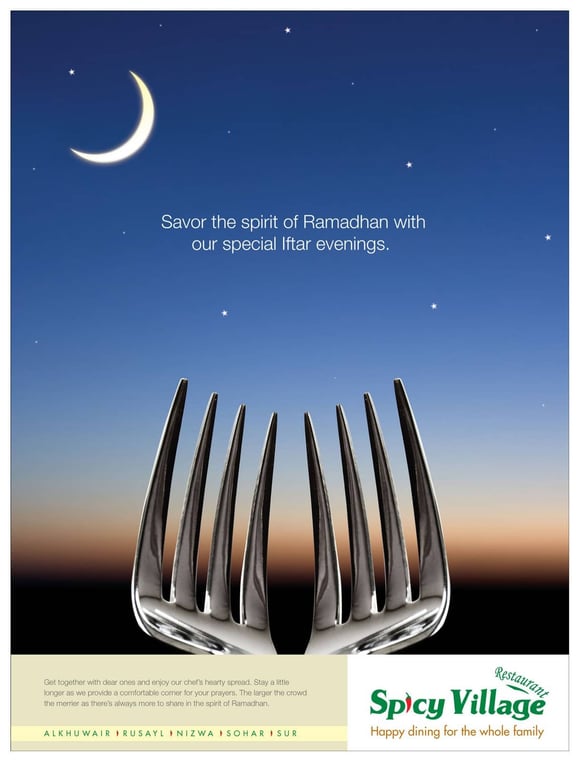 ---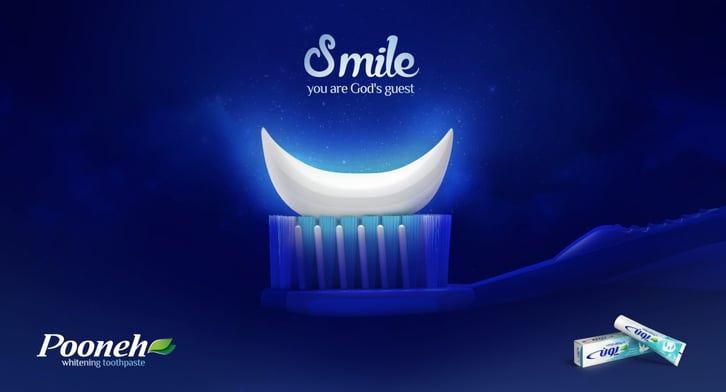 ---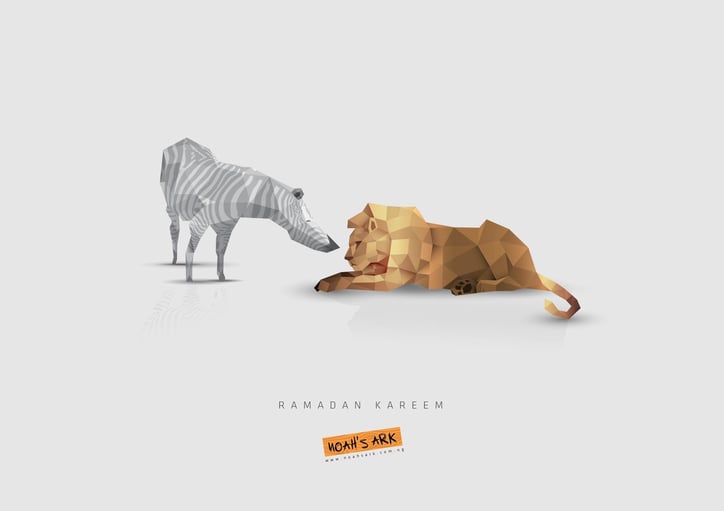 ---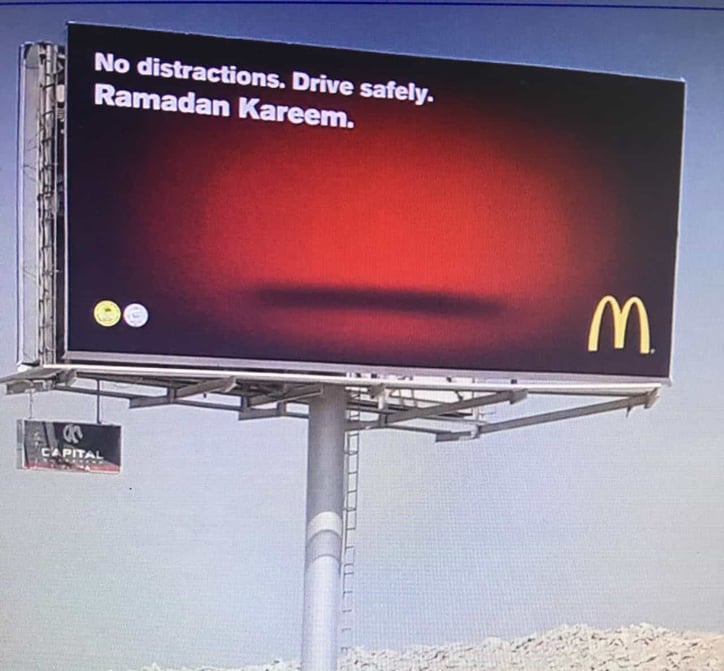 ---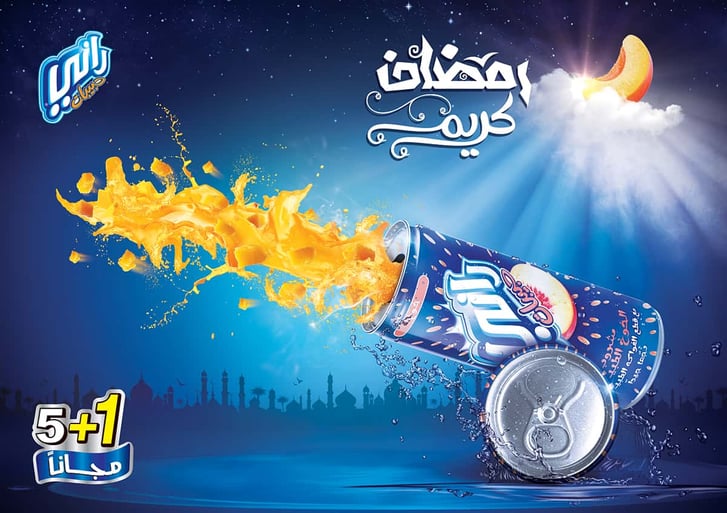 ---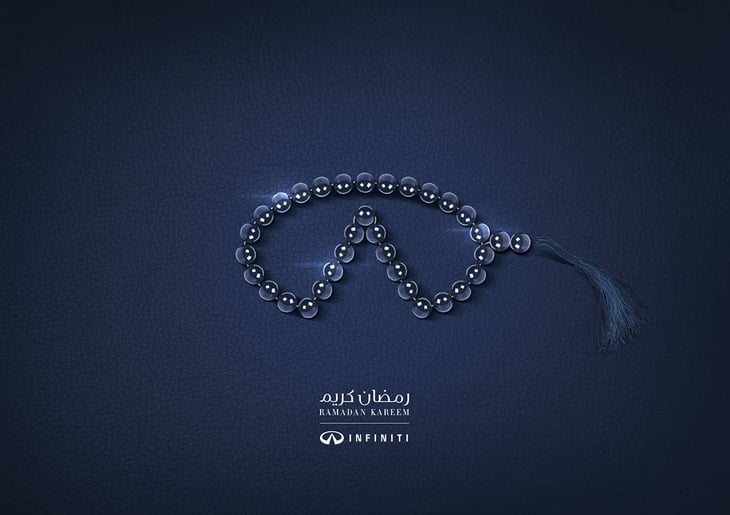 ---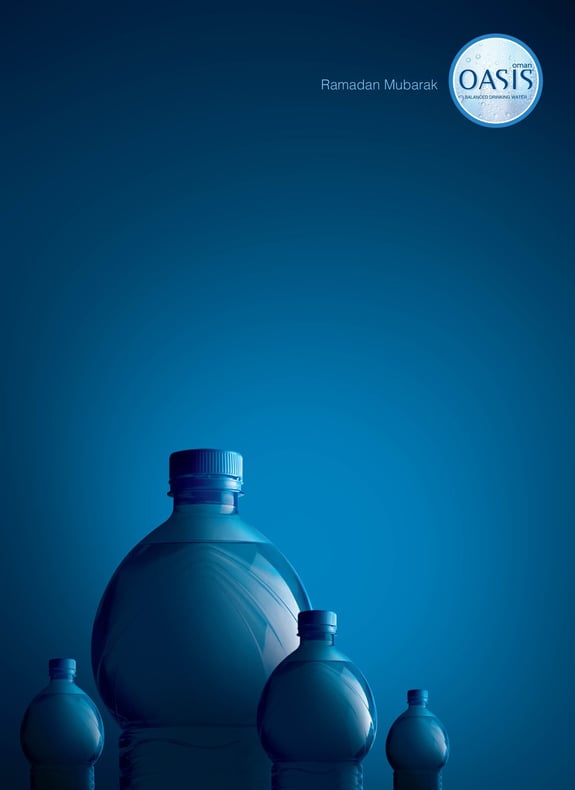 ---
In case you need help with designing a creative Ramadan ad, remember that we've always got your back.
Based on the ads we've seen so far, here's a list of all Ramadan elements that can be possibly used in your future ads.
The Canon (that marks the breaking of fast everyday);
Fanoos Ramadan, also known as Ramadan Lanterns;
Dates (a classic staple all over the world);
Arabic Teapot (hinting towards the traditional arabesque essence of Ramadan);
Tasbih, also known as prayer beads;
The Crescent Moon (the most used and recognizable element of this holy month);
By incorporating one or more of the above mentioned Ramadan elements, you'll be able to better convey the message of this holy month.
To get more inspiration on Ramadan social media marketing, check out this power-packed article.
---
Conclusion:
Don't let all those facts & figures confuse you.
This guide was written as a one-stop resource for all your Ramadan research.

It has been compiled using data from over 20 sources to give you the best & actionable insights for social media marketing in Ramadan.
If you have the in-house capability to run social media campaigns for Ramadan, great!
Otherwise, you can always get in touch with us to plan & execute Ramadan special campaigns to make the most of this festive season.
---
Recommended Reading: