In broader terms, companies can be divided into 2 categories:
One that uses Microsoft Excel to store volumes of data and maintain records,
And the other that uses a robust CRM software that makes their life easier than having to find various files for various categories of data.
Although MS Excel is the ultimate data processing superstar, many companies use it as a pretentiously disguised free CRM software.
The truth is – different tools are made for their varied usage, and you cannot drape the features of one over the other expecting to get the same results.
That's why we place so much emphasis on choosing the right customer relationship software that unifies & automates all tasks in a single unit.
We've interacted with hundreds of firms across the UAE who expressed their reasons for not using a proper CRM to store data. Most of the reasons revolved around cost & ease of usage. Imagine how much your business would grow with a free crm software in a highly competitive city like Dubai, instead of having to incur hefty expenses to own one.
Maybe they're right.
CRM tools can get pretty expensive if you had to find the right one for your business.
But what if we provided an alternative solution?
A free solution that renders all those reasons-to-not-use-CRM useless, and actually streamlines your operations resulting in a consistent increase in profits?
Introducing the Hubspot CRM Free.
Yes, you read that right!
It's the ultimate free CRM designed for companies like yours.
No more excel sheets. (don't delete them yet, as Hubspot even gives you the functionality to import data to save you the trouble of typing all over again)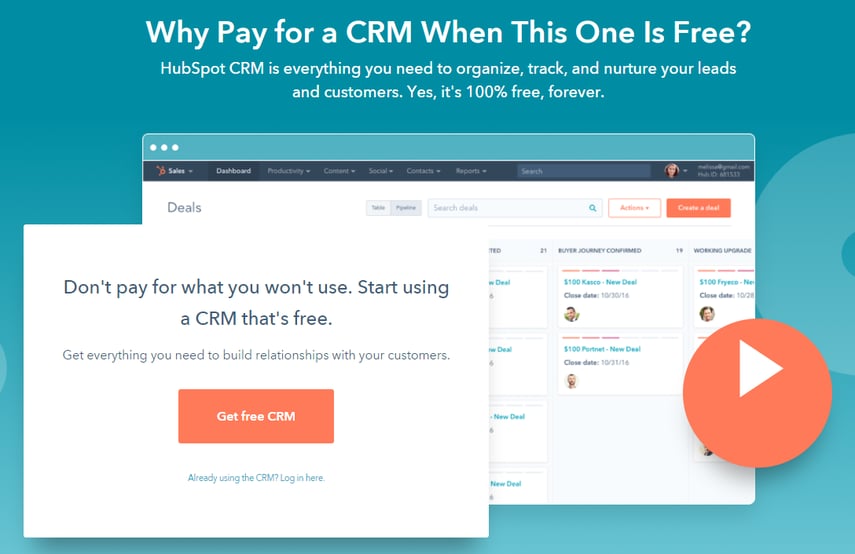 Being a Hubspot-Partner agency in Dubai, we could write volumes on why it's better than other CRM softwares in the market, but we'll leave that decision up to you.
Hubspot is at the center of innovation and user experience, with a flair for continuous improvement and creativity. They recently revamped their entire blog section to make the content more welcoming and easy-to-absorb.
Here's how it looks like – with a clean, minimalistic design with plenty of white space, their new blog design makes our eyes drool.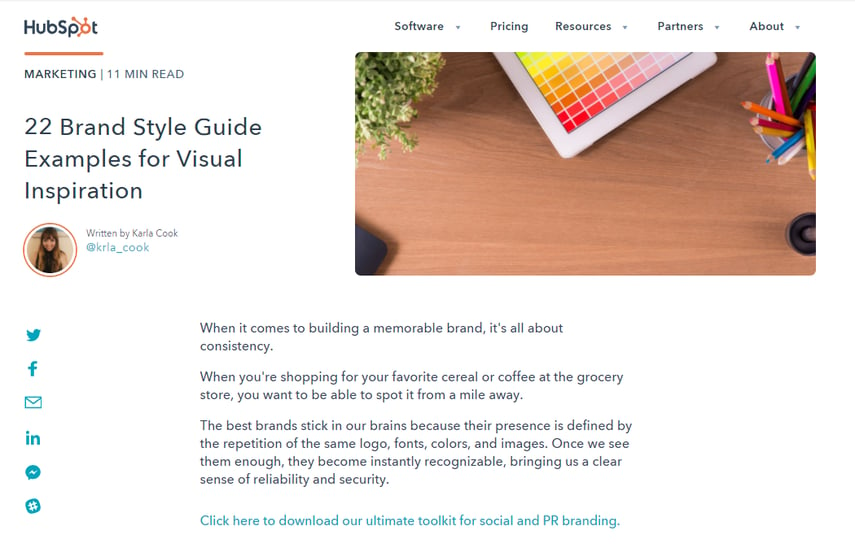 If redesigning their blog section wasn't enough, they supercharged their products with the latest features in CRM technology (with more in the pipeline as you read this).
With the advent of Inbound Marketing and its viral growth across industries, this CRM is the perfect companion in your marketing & sales journey. Starting from getting your business found to generating leads & nurturing them, the Hubspot CRM Free has got your back covered.
You need to use it to believe it.
And the best part is – you don't have to pay for features you don't use. Now that's what we call an intelligent CRM software.
Some of the hottest new updates to this free CRM are:
1) A New Way to Measure Your Marketing Campaigns [In beta]
This new update allows you to measure the big-picture impact of your campaigns. It's a brand new screen in the Hubspot portal that looks like this: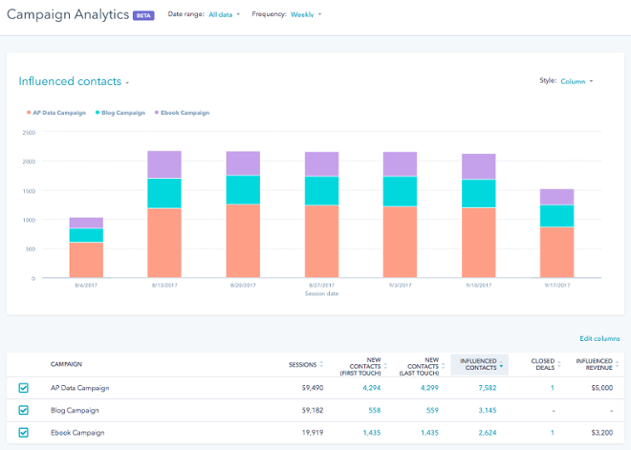 With this new feature, you can calculate the ROI of your marketing efforts within the CRM and measure progress against your overall goals. In other words, you can now:
Compare campaigns to one another, including comparison metrics such as quarterly & yearly;
Visualize your campaign performance in the form of graphs and charts to soothe your eyes from crunching numbers all the time.
View a list of new contacts created by a campaign --- either via first-touch (i.e. an asset in the campaign was the first thing the contact ever saw on your website --- the gateway to your organization) or last touch (i.e. an asset in the campaign was the last thing seen before conversion from visitor to lead). You can preview new contacts per campaign as well as list them down for easy export with a single click.


View more than just leads. View influenced and contacts and measure brand awareness. Not every campaign is a lead-generation one. Sometimes, the objective is to influence your audience with content at different stages of a tunnel. With this new campaign reporting system, you can measure the exact number of contacts who performed a non-lead generation action that you planned for your campaign.
To get the complete A to Z data on this new feature, click here.
2) Facebook Lead Ads
The integration of Hubspot CRM with Facebook Advertising gave birth to this brand new update where you can create and nurture Facebook advertising leads in a unified marketing platform. This relieves marketers and business owners from manually reviewing individual dashboards by syncing lead generation ads within the CRM.

Here's what you can do with this exciting free CRM update:
Create ads:
You can create a Facebook ad within Hubspot. A pop-up window follows, where you can jump directly to creating lead generation ads instead of getting interrupted by several steps that used to earlier act like speedbreakers. Simply choose your target audience, set a budget and voila!, your ad is ready to be shown to prospective customers.
For more help on this, click here.


Sync your leads data:
Since CRM is all about managing customer relationships and nurturing them to the point of loyalty, this feature allows your leads to flow directly into the CRM. This helps you to contact them as soon as they appear, and minimizing the deal closure time. New leads that pour from Facebook's lead ads will appear like a form in Hubspot.

To top it all off, you can setup workflows to automatically nurture leads as they arrive. A sample lead form looks like this: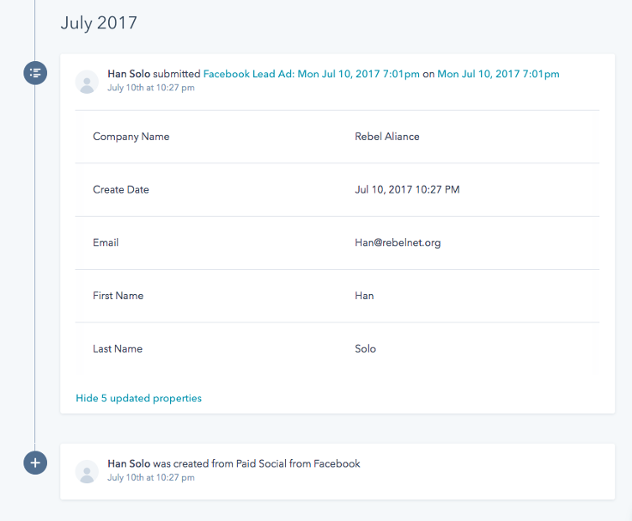 To view the complete list of product updates, integrations and help guides to get started, check out Hubspot's official product updates page.
To get your free CRM, contact us today!