It's that time of the year – again.
The time when art directors, copywriters, graphic designers, account managers and marketers huddle together to create ideas for Eid greetings that'll help them secure a spot in the next Ads of The World Post.
Being an advertising-digital agency ourselves, we know how much effort, research and brain-storming it takes to reach that euphoric moment when you're actually satisfied with the ad ideas your creative team churns out.
Ideas are everywhere. You just require the right pair of eyes to see them.
It's about joining the pieces of a puzzle that people with vivid imaginations throw at your brand.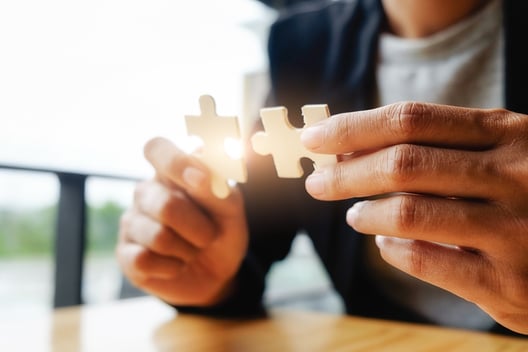 Everyone's got eyes, but not everyone sees beyond what's visible.

That's the inspiration for us to write this blog article – to celebrate those pair of eyes that saw the creative opportunity and took the chance to create some of the finest Eid ads we've seen so far.

Without further ado, here are some of the best Eid ads that caught our eye.

Enjoy the creativity emanating from these ads and get inspired to design some for your brand too.

---
The list follows:
1) Mercedes Benz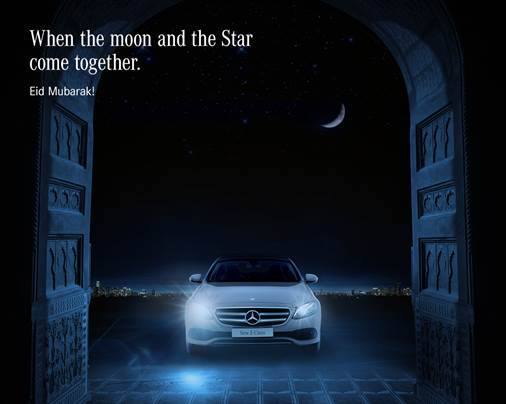 Mercedes has always been at the forefront of creating timelessly classic ads with head-turning copy that establishes the brand as one of the most sought-after ones, in terms of quality, craftsmanship & creativity.

In this simple yet powerfully written ad, they call their vehicle "the star" while positioning it with the moon for an all-star Eid Mubarak greeting, that focuses on the popularity & success of the model being advertised.

---
2) Flipkart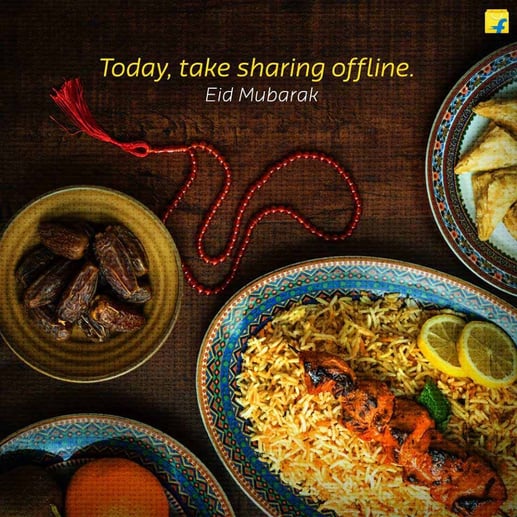 Being India's biggest online store, Flipkart definitely didn't want to hide behind the veils of a starry Eid night.

Being a completely digital brand, they're quite familiar with the evils of people being online all the time and dedicating a dangerously-miniscule fraction of their time to family and friends. The aim of the ad here was to tug at the heart-strings of togetherness and bringing people together – in real life, instead of sharing content with each other via social media platforms.

We think it's quite a bold move for an online brand to spread the message of being offline for once on the occasion of Eid.
---
3) OHI Leo Burnett


For those who don't know OHI Leo Burnett, it's a communications agency in Oman that was established in 1976. Scrolling through the history pages of ad agencies, we proclaim it as one of the oldest communication agencies in its competitive set.

With a very simple yet powerful approach to create an Eid greeting, they used the shavings from their "pencil" logo to create mosque domes that are reminiscent with the spirit of the occasion.

---
4) Parachute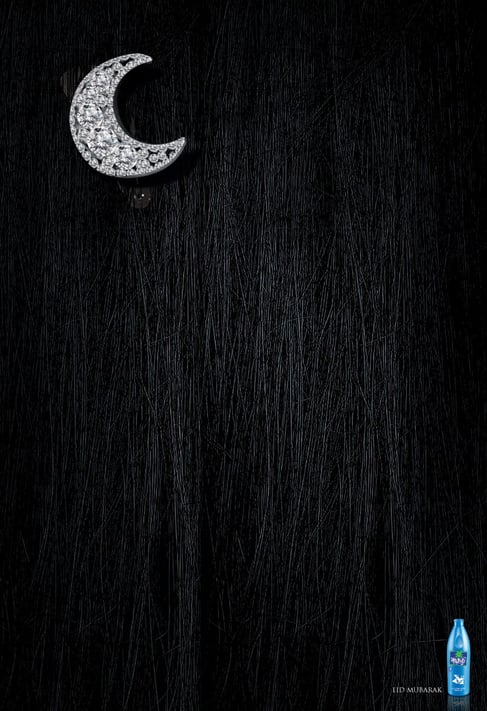 How can a hair oil brand wish Eid Mubarak in a memorable manner?

Parachute answered that question by releasing this ad that uses a zoomed-in image of dark, healthy hair to depict the pitch-black Eid night.
A moon-shaped hairclip rests amongst it gracefully to position the brand as one of the many stars that mark a woman's beauty.

---
5) Fantasy World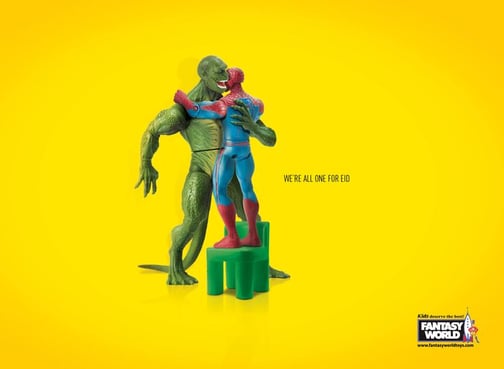 This isn't your typical crescent-moon-meets-black-sky ads.

Fantasy World, a leading toy brand decided to wish Eid a little differently. While promoting the spirit of unity and maintaining amicable relationships, they managed to let viewers know that they take their toy business quite seriously.

The ad shows toy figurines of Spiderman and his arch-nemesis, Lizard hugging each other on Eid (instead of battling it out all the time) with a simple one-liner that reads "We're all one for Eid".

Kudos to them for merging multiple elements into one simple ad.

---
6) Coca Cola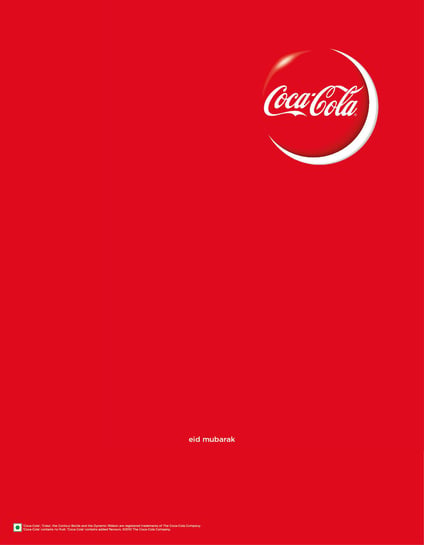 For a brand whose tagline is "open happiness", Coca Cola made sure they released an Eid ad too, in order to commemorate the joy associated with the occasion. In this ad, they recreate the crescent moon on the signature bright red background using their bottle cap as the trigger.

Coke sets the branding benchmark high in everything it does – ranging from the simple "Hug me" machine that pops out a drink everytime you hug it, to a complete TV series named "Coke Studio" where it provides a platform for artists to create music that has never been heard before.

---
7) McDonald's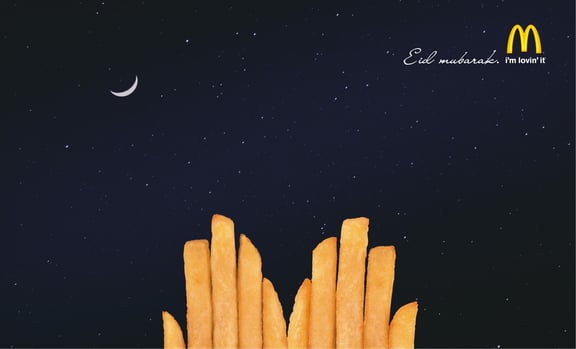 Known for producing quirky ads that make people give out an appreciative smile, McDonald's didn't fail to amuse us with their Islamic-themed ad. Featuring their golden-crisp fries as fingers of a devotee, McDonald's once again managed to advertise their dish actively (and passively) to appeal to millions of Muslims who observe Eid twice a year.
Well done, McDees!
---
8) Continental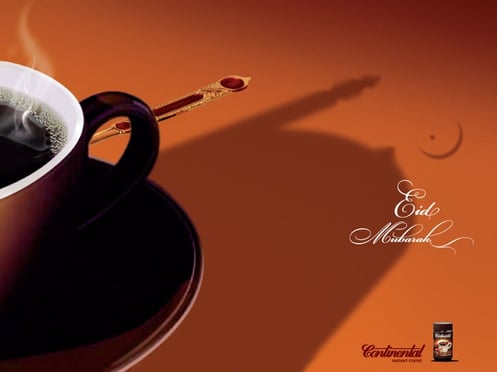 Continental is an instant coffee brand that has been around since 1985 & promises a premium-brewed coffee that's reflected in their subtle-yet-classy ad. The ad features a piping hot cuppa-coffee with a stirring spoon, with their combined silhouette resembling a mosque and its minaret.

It's simple & effective, unlike other loud and quirky ads.

---
9) Tanishq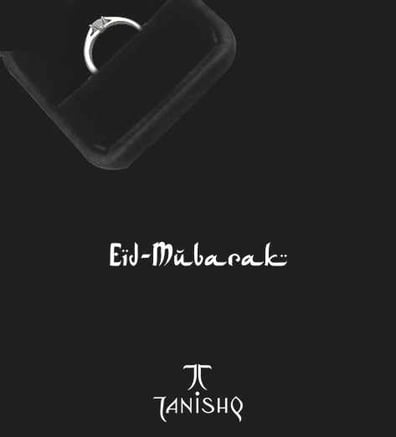 Being one of the leading brands specializing in gold & diamond jewelry, Tanishq created a successful Eid artwork using something they stand for – Diamonds.

By incorporating a real diamond rind in a black casing, the ad replicated the illusion of a crescent moon shining brightly in the clear sky. To top it all off, Arabic-English typography was used to hint towards the Islamic nature of the festival.

---
10) Home Centre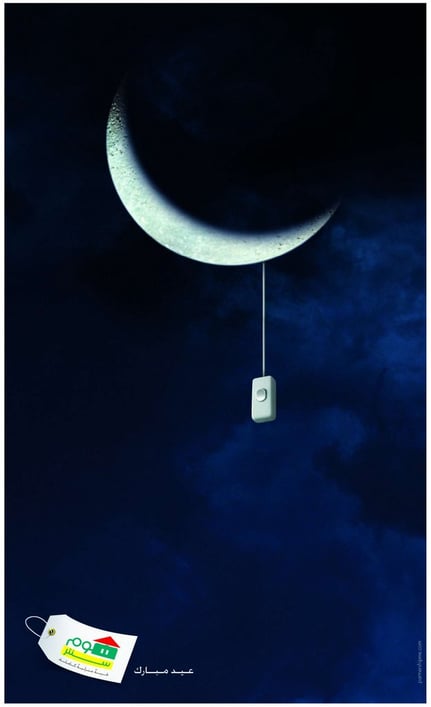 Pardon the old Home Centre branding, but this is one ad that caught our eye. By adding a hanging switch button to the crescent moon, they have told the complete story about their products & services without uttering a word. For those who didn't get it, Home Centre is a home accessories and furniture store (the hint is in bold)

---
11) Al Maya Supermarkets


Al Maya is a strong chain of supermarkets across GCC that deals with groceries, convenience goods and consumables.

Instead of using complex & colorful wallpapers to wish their customers a happy Eid, they resorted to something more simple, effective and contagious – a coconut. The product placement represents a crescent while pointing towards Al Maya being a supermarket brand. A Win-Win situation on both fronts.

---
12) Oreo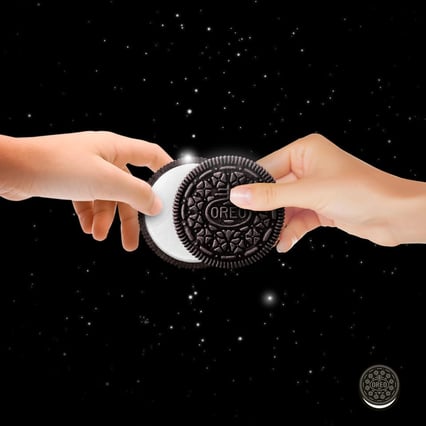 How could we forget Oreo – the brand that's popular for always having something up its sleeve – whether it's an ad for the Superbowl power blackout or the Mars Space rover.
To celebrate the joy of sharing, this Eid ad shows two people sharing one biscuit while revealing the crescent in the cream – so effective and yet so simple!
Oreo has mastered the art of releasing ads that revolve around their main product – the signature biscuit.
By manipulating the shape, texture and most importantly, the design of the cream filling, Oreo tells the entire story with a single biscuit.

Now that's what we call marketing.
If you're reading this blog before Eid-ul Fitr, then you would love our in-depth guide on Ramadan social media marketing.
---
Bonus Creatives Designed for our clients: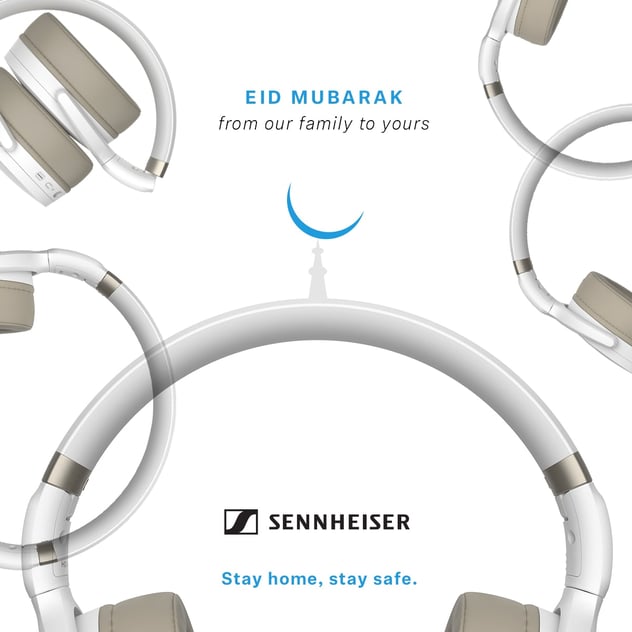 ---
Have you got any ads you'd like to share with us?

Feel free to email them to us to get featured: letstalk@arcsncurves.com