In the race to create content for their target audience, brands often forget one critical element of social media communication:
Listening.
To understand social listening, first comprehend the answers to the following questions:
Are you "listening" to what your customers and fans are talking about online?
Are you able to find out their pain-points as they publish negative comments about you on social media?
If they forget to tag you in a post, are you able to respond to them?
And most importantly, if they're facing trouble using your competitors' products or services, are you stepping in to delight them with something better?
In a digitally-connected world, it isn't enough to simply create content and run ads on social media.
Everyone does that, right?
You're reading this article because you want to be better.
Better than your competitors;
Better than your own current position in the market; and
Better than your customers' expectations.
So, if you want to scale up your social media game, then be prepared to absorb the advice in this article.
Here, you'll learn everything you need to know about social listening, including how to leverage social listening to win new customers and delight existing ones online.
Bonus Tip:
🗣️ Talk TO your audience, not AT them!
Otherwise, you'll simply turn into another of those overly-salesy brands struggling with social media marketing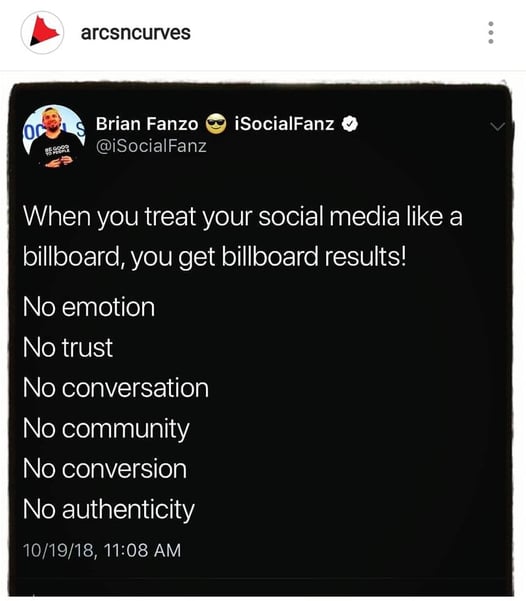 Let me help your brand grow a pair of digital ears to hear your customers better.
---
1) What is Social Listening?
Although there's a ton of information out there on social listening, here's a distilled definition, created exclusively for you:
Social listening is the process of monitoring the internet for anything that's important for your brand, its health and reputation.
A wordier definition would be:
Social Listening is the act of using sophisticated software to monitor the entire internet for people talking about you, your brand, or keywords related to you.
You can keep your ears open for stuff like:
Mentions of your brand;


Services you provide;


Customer feedback;


Competitor names and activities;


Keywords related to your business;


Common complaints related to your industry;



Hashtags related to your services and offerings;
and more!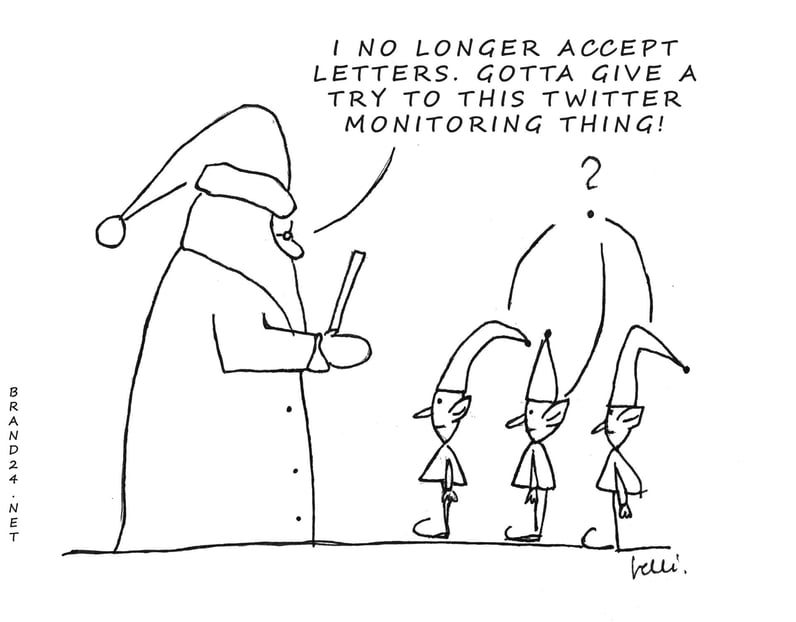 By monitoring these elements and keeping them on your social radar, you can answer questions people ask about your brand, provide exceptional customer service, respond to negative comments or propose your services when your target audience is unhappy with your competitors.
The opportunities are endless.
Social listening is a gateway to untapped social media lead generation opportunities, that's created by people interacting with your brand or your competitors.
The more you mine, the more you shine.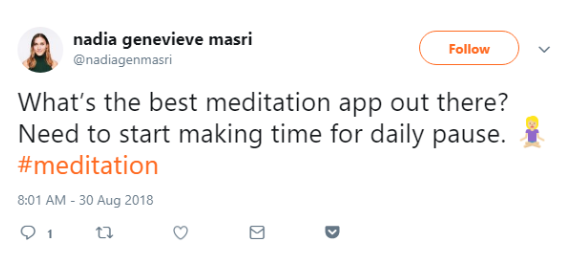 Take the above instance as an example.
The lady is looking for a meditation app, but hasn't tagged any specific brand.
A smart meditation app company would monitor the keyword "meditation app" as well as the hashtag #meditation to convert her into a potential customer.
Marketing to customers who are actively seeking services you provide is very easy, because the need already exists.
You simply have to satisfy it.
And that's one good example of putting social listening into practice.
---
2) Benefits of Social Listening
Now that you know what is social listening, let's find out why it's important for your business.
In such a cluttered digital ecosystem, combined with a fast-paced lifestyle, people often forget tagging your @brandname.
In a scenario where you're NOT participating in social listening, these untagged mentions of your brand will simply fly above your head.
You won't get any notification that "@customer has tagged you in a post", because you WERE NOT tagged in the first place.
Be prepared to accept the fact that most customers/social media users won't relook at their social media posts to see whether they've tagged the concerned account or not.
People may not tag your brand for the following reasons:
They don't know if your brand has a profile on that social media platform;


They don't know how to tag an account;


They cannot tag your account (due to some weird privacy settings);


They simply forget to add the @ before you name to tag you; or



They don't want you to know what's being discussed (negative connotations).
What's essentially happening here, is that people are talking about you, without you knowing about it, at all!
Social networks, online forums, blogs, and comments are some of the common places where people discuss about your brand.
That's why, it's important to be informed.
Whether it's good or bad, feedback is essential for your business and its reputation.
Thankfully, with the help of some social media listening tools, you can get notified whenever any of the above instances take place.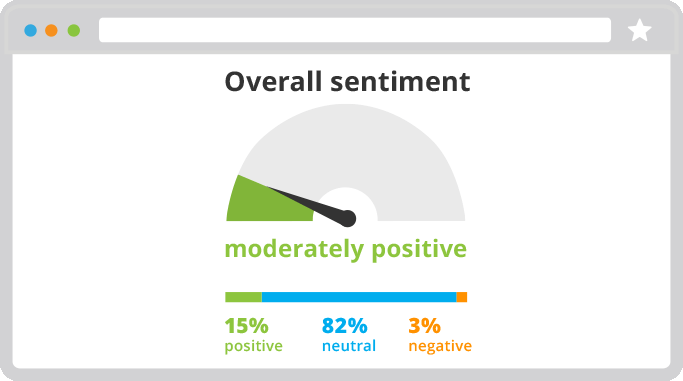 Social media tools like Hootsuite, help you understand the sentiment around your brand so you can focus on recovering and improving it, in the eyes of your customers.
Apart from uncovering what's being spoken about, active social listening also helps you get qualitative insights on issues that quantitative data cannot highlight.
"Customers get proactive in sharing their opinion about your brand when seeing that you listen, connect with them for real, and respond to their needs."
Social listening can answer questions like:
Where does my target market spend their time?


Is there an online crisis/controversy around my brand? How to neutralize it?


Do customers/prospects need help regarding my product/service?


What are the pain-points and challenges of my customers?


What's the sentiment around my brand? Is it positive, negative or neutral?


How to create content that generates more engagement?


What makes my audience happy? How can my brand delight them? and most importantly,



How to market my brand effectively, so that it reaches the right people?
According to a study by Clutch, here's how medium and large businesses are using social listening tools: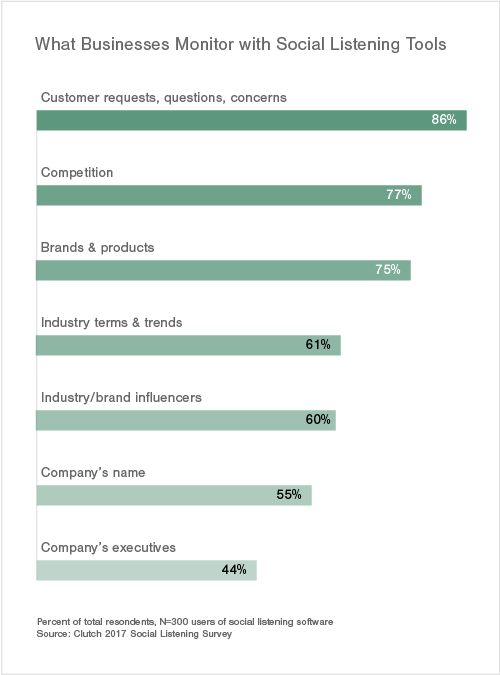 ---
3) Best Social Listening Tools
Social listening requires sophisticated tools that crawl the internet to give you the answers you need, so you can give your customers the answers they need.
Here's my compilation of the top 3 social listening tools that'll help you hear better, act faster and delight more people online.
Tool 1)

Being a HubSpot-partner agency in Dubai, we may appear biased towards our choice of a social media listening tool. However, this robust marketing software puts its money where its mouth is.
HubSpot links social interactions to real people in your database, so you can see deep context and prioritize conversations with the people who matter.
You get to notice every who's interacting with your content, and create custom keyword monitoring streams for everyone on your team to monitor the areas they care about.
Their built-in functionality also triggers email alerts to designated team members whenever your prospects mention you online. With HubSpot you'll never miss an opportunity to engage with your followers and win new customers.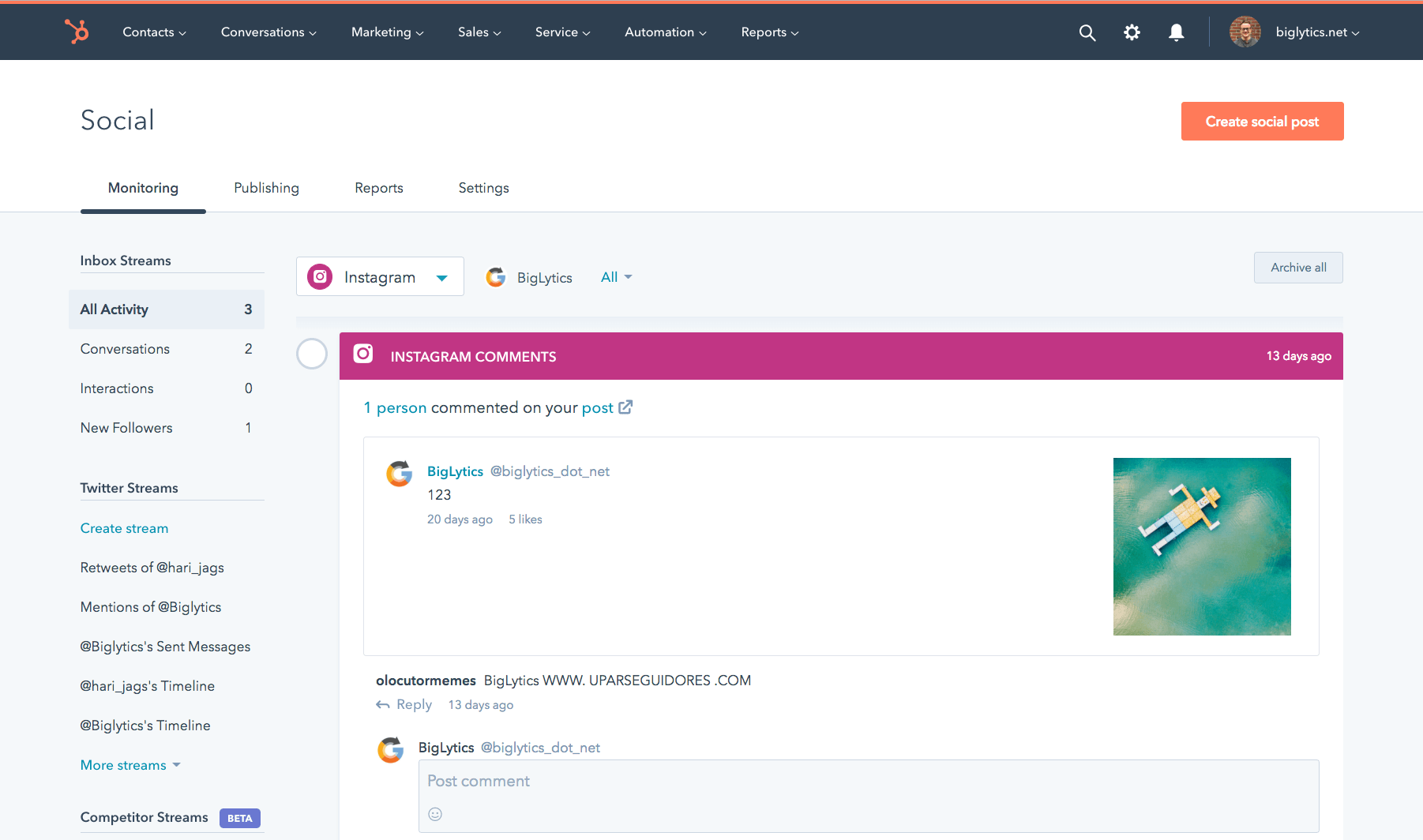 ---
Tool 2)

Mention is another great social listening tool because of its simplicity and real-time search capability. When you set a keyword alert, you can get results from the last 24 hours.
The paid plan helps you get even more historical data in depth.
Apart from social listening, Mention also helps you find Twitter and Instagram influencers by searching using keywords.
You can then add those influencers into CSV downloadable lists that integrate with your CRM directly.
Mention comes with data-rich reports available out of the box, but the real power is in the Insights Center where you can build your own custom reports and automate delivery.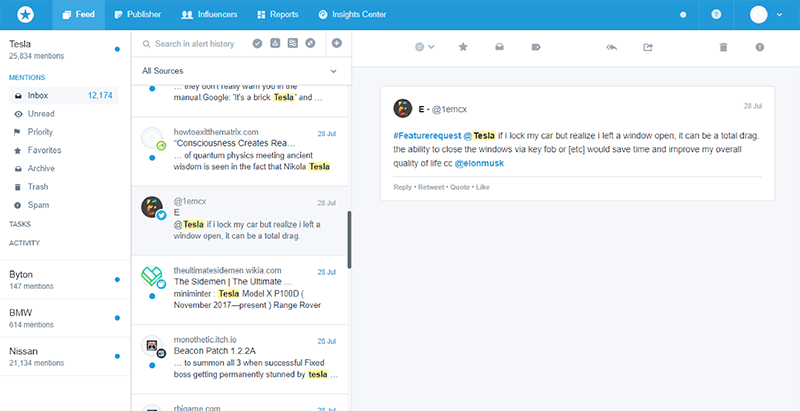 ---
Tool 3)

Awario is one of the top-rated social media listening and monitoring tools in the marketing community.
With its ability to collect mentions of your keywords from a large range of sources, Awario helps you monitors all major social media platforms, Reddit and other forums, news sites and blogs.
It takes social listening to the next level by letting you set up complex Boolean queries for the less obvious use cases.
You can even detect plagiarized copies of your content, find linkless brand mentions that you can turn into links, and monitor new backlinks to your site.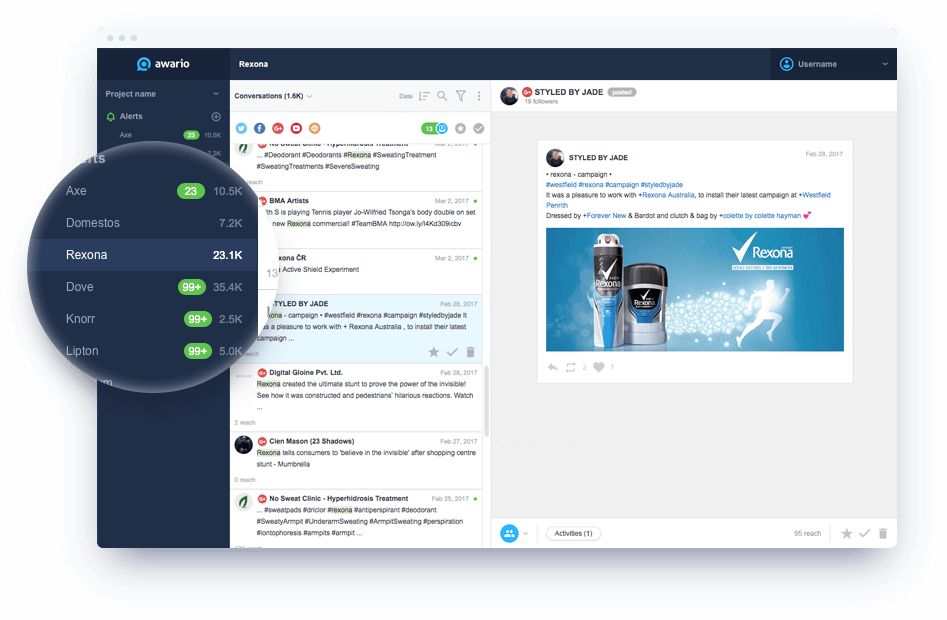 ---
Conclusion:
Digital Marketing Guru, Jay Baer states that "Listening to customers is more important than it's ever been because their feedback is manifestly public where it's historically been private."
With easy access to digital devices, customers are no longer complaining about brands behind closed doors.
Even the smallest inconvenience caused by your brand can turn into a viral social media post, and you can imagine the consequences of such an occurrence.
With timely social listening, you can turn a disappointed customer into a delighted one, by addressing their grievances.
It's about time you connect with your customers on a whole new level.