While reading this, you are either at the verge of getting a CRM implemented for your company or have just got one.
In both cases, this article will guide you through the basics of a successful CRM implementation for your business, whether it's in Dubai, UAE or abroad.
Setting anything up requires a process in place – it could be a single step or a series of steps leading to a complete project completion. The process of setting up a customer relationship software is no different.
Following are the 4 steps you should follow for a complete CRM setup.
Understand Sales Process & Lead Ownership
Migrate Data to the CRM
Customize your CRM for the Sales Process
Track Systems and Monitor Data
---
Understand Sales Process & Lead Ownership
In many firms, sales teams are often left behind when it comes to getting familiarized with a new CRM software and using it to log their activities. There's a strong need to understand how the tool will help them sell better and increase conversions. This area is the key to a successful implementation.

You, being the harbinger of a new CRM software, should understand the following components of this step:
Sales Process: In a highly competitive Dubai market, tracking your sales team's efforts is vital.

So start off by ask yourself or your team this question – What is the current sales process?

By getting a clear answer to this crucial step, you can define them as stages in your CRM that convert into trackable action. Examples of this stage include – call scheduled, meeting confirmed, demo arranged, follow up completed, proposal created & deal won/lost.

Logging the deal stages in the CRM makes the sales process a lot more organized and easier.
This is how a usual sales process looks like:
Custom Fields: Although many CRMs contain basic fields such as email address, country and website, these fields won't cover specific demographics such as industry or company size. The secret in knowing more about your leads and clients lie in custom fields that cover marketing, sales & other related content.
Lead Ownership: Establishing clear rules regarding ownership of leads and accounts is a major component of a CRM's success. Without these regulations, your time will be spent in resolving the conflicts between sales reps and the service departments.
Territorial Regulations: If your sales team is bound by territorial boundaries, make sure to configure so in the CRM. Some softwares even enable automatic lead assignment based on the territories you have set.

Now that's what we call an automated-regulated lead gathering and nurturing process.
---
Migrate Data to the CRM
Filter the Data: Your new CRM software is a fresh start for your sales operations. To increase your team's productivity & improve sales figures, avoid mixing old data with the new one by importing old test contacts and obsolete fields. In other words, delete the dirty data and start afresh.
Devise Data Backup & Contingency Plans: Making an organizational transition with the implementation of a new CRM is a serious process. So, before making the decision to move your data, make sure to regularly back it up offline to avoid the loss of any critical data.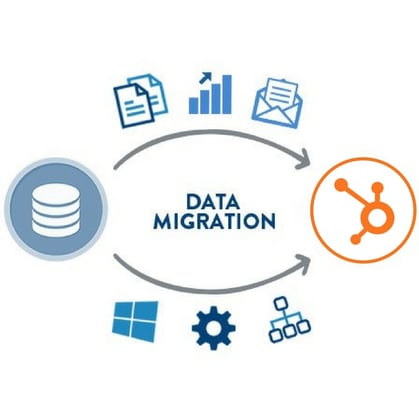 Migrate Data in Parts: Organize your data and then move it in parts for a smooth migration. Do not move all your company data in one go, as you never know what interruptions may arise.
---
Customize your CRM for the Sales Process
Once the data migration is complete, it's time to construct a system so that your sales reps can start selling faster and better.
Create a lead routing automation process: Robust CRM softwares such as Hubspot provide complete automation services so that your highest quality leads are automatically assigned to the right salesperson.
Use notifications for team: Dealing with large amounts of data, including follow-ups and proposals can take its toll on even the sharpest sales people. While your reps are busy dedicating their time closing one deal, they might forget about a high value action another lead may have taken.

To deal with this information overflow, set up email notifications every time a prospect takes an action that matters.
Construct custom lead views: By having access to the complete profile of every lead on individual pages, your sales team won't have to waste time searching for points of lead interaction and the dates thereof. With the help of lead views, you can view a chronological timeline of every leads' details such as, email opens, content offer downloads, social media interactions, and more.
Generate custom reports: Don't just use the data in your CRM for viewing contacts and lead nurturing purposes – instead, generate reports to get valuable insights into metrics that matter.

Tracking sales team productivity, number of leads delivered, daily sales activities, product demos, deals won/lost, average time spent in deal closure, sales forecasts, and best performing team members are just a few examples of the strength of custom reports.

Such reports help managers manage better and the sales team, well, sell better.
---
Track Systems and Monitor Data
Over time, your CRM will be filled with data of all sorts. To optimize your sales operations, track the data in the software and clean it up regularly.

Examples of this are – deleting outdated contacts, filtering your email lists, assigning the right information for the right lead views, and so on.