The global impact of COVID-19 has been profound, and the public health threat it represents is the most serious seen in a respiratory virus since the 1918 H1N1 influenza pandemic.
As coronavirus cases spread around the country, small business owners are beginning to feel the pinch in the form of lost sales and disruptions in their supply-chain network.
Coupled with plunging stock market indices and the rising number of cases globally, business owners and marketing/operations personnel are justifiably scrambling around for solutions to keep their company afloat.
Being in a tough spot like this may seem like uncharted territory - especially when the lockdown has been imposed indefinitely.
The first step to face a commercial calamity like this is to ask yourself:
"What do I need to do to survive this scenario?"
Instead of,
"How can I make the most out of this situation?" (address this question later).
At such a critical point for your business, calculating or estimating any form of "risk-adjusted value" — and then spending your money accordingly — can be a tough decision to make - especially when you're struggling with cash flow.
That's why, now it's time to think about plausibilities or plausible scenarios.
Instead of thinking about possibilities and probabilities.
If you're a new business, there's not much you can derive from your personal experience, since a catastrophe like this might be your first.
Problems in supply chain network, staff attendance, vaporising market, customer retention and cash flow are imminent.
And being a marketing agency, we understand the hardships you're going through and will support you at every stage to the best of our abilities.
To start with, here are a few smart strategies you can use to retain customers, manage cash-flow crisis and stay afloat amidst the lockdown.
You'll also find examples of local brands who are putting these tactics into practice to stay strong amidst this crisis.
---
1) Communication is Key - both internal & external
One of the most important things you can do is communicate - with your employees, with your customers, with your stakeholders and with your family.
All of them have their own concerns regarding health and business continuity - so make sure you communicate your plan of action to stay safe and supportive during this difficult period.
Send an email to your customers, post on social media and set up signage in your store to assure them that you're doing everything you can to protect their health when they visit your store.
If your store is closing, notify your customers on your social media channels, through email and on your website.
If your store is staying open, describe the steps you're taking to mitigate risk.
Share any increased cleaning, disinfecting and hygiene protocols you're following, and let them know that you are enforcing self-quarantine among any employees who might be experiencing symptoms.
Following are examples of local brands putting this tactic into action: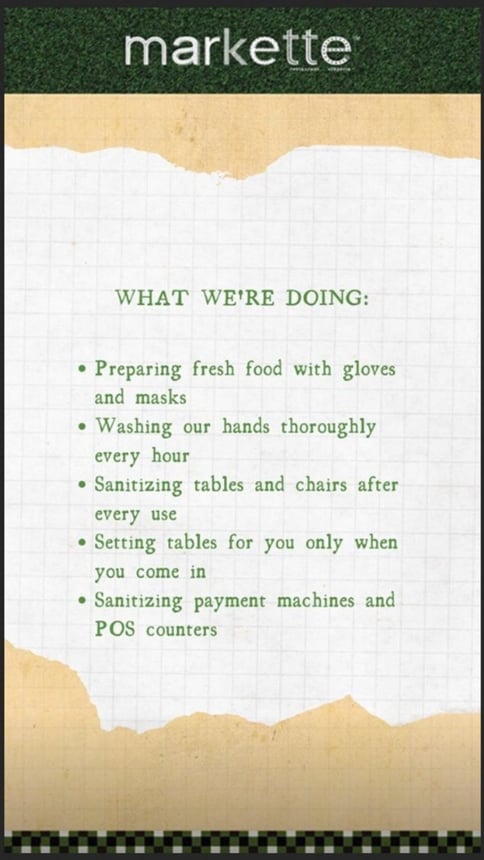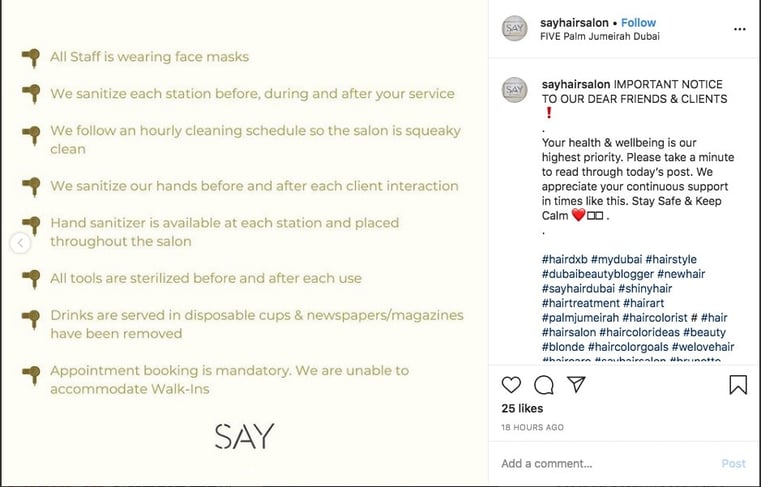 ---
2) Increase your social media presence
The quarantine period, widely popular as #StayHome on social media has people hooked on to their phones and online streaming devices indefinitely.
They're checking social media platforms to catch up on the latest pandemic news while also finding avenues to kill boredom.
By posting regularly - whether it's about the virus or some light-hearted content to make people feel good, your brand will benefit from increased awareness and an opportunity to build long-term trust.
Beyond letting customers know the logistics of your approach, give them a way to stay connected.
Customers spending more time at home will still need to shop for things.
Direct consumers to your e-commerce store, take orders over social media and be prepared for more people to view your website than in previous months.
---
3) Digitize Your Services
Changing your business model overnight can be challenging - but it's crucial for survival
You cannot afford to lament about the loss of business and customer churn.
As a business owner and entrepreneur who has made it this far, you can definitely take steps to adapt your business to the changing times.
This involves going digital with your service offerings wherever possible.
Your customers are glued to their devices at home - now is the best time to reach them digitally.
If you're in the industry that necessitates face-to-face interactions, there's still some hope for you in the form of online conferences and webinars.
Tutors, personal trainers and even therapists are digitizing their services to retain customers amidst the lockdown.
You could even consider starting a Vimeo channel allowing customers to pay to access content-rich videos you're creating.
Free tools like Google Hangouts, Skype or Zoom help you offer your services remotely without having to suffer a contract suspension.
For example - a gym owner can start a series of home workouts for their customers to keep both aspects of his business fit and active.
Inner Fight, a fitness studio did a great job by communicating that you can workout at home too: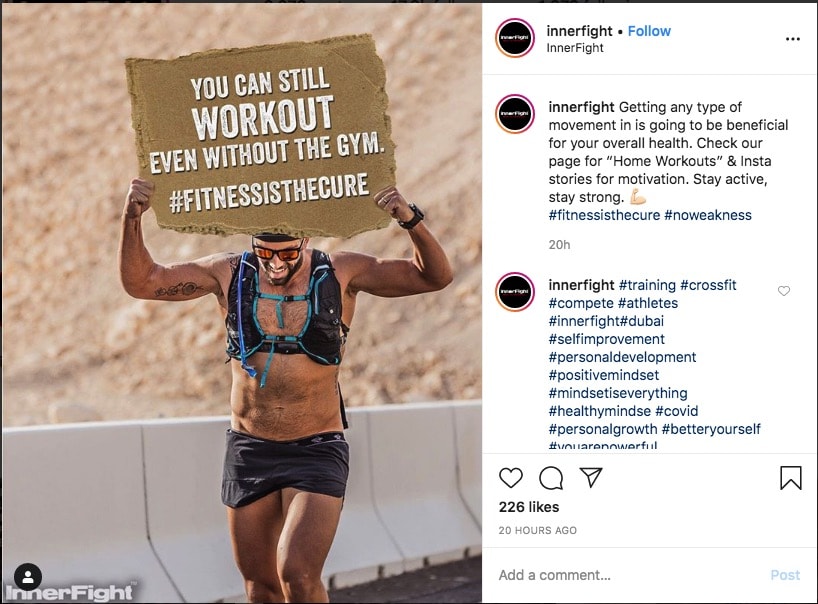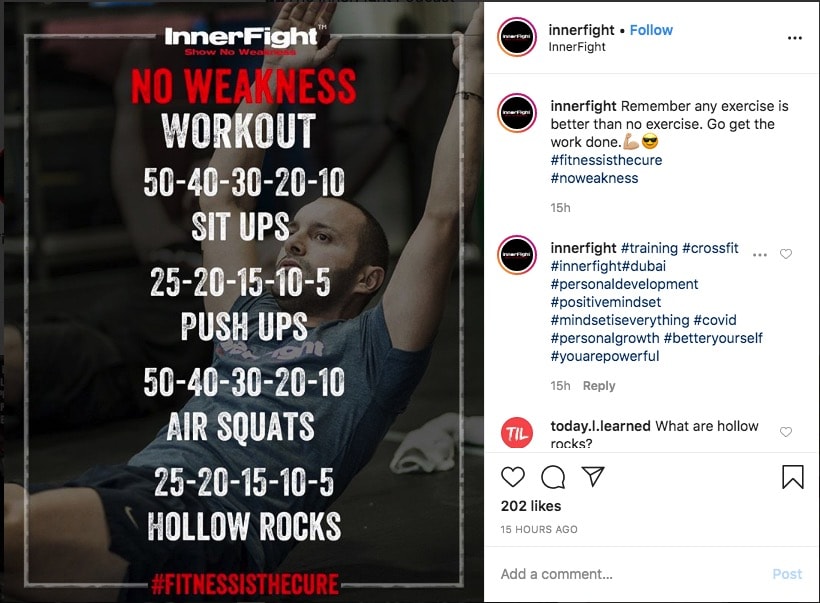 You may not be able to charge as much as your regular services, but it at least helps with cash flow in the meantime.
The most affected sectors like gyms, training centers and educational institutes - verticals that sell services instead of products can digitize their offerings to keep the cash-flow steady.
Here's an excellent example of Astrolabs who digitized their entire training course by thinking quick and staying stoic during this tough period.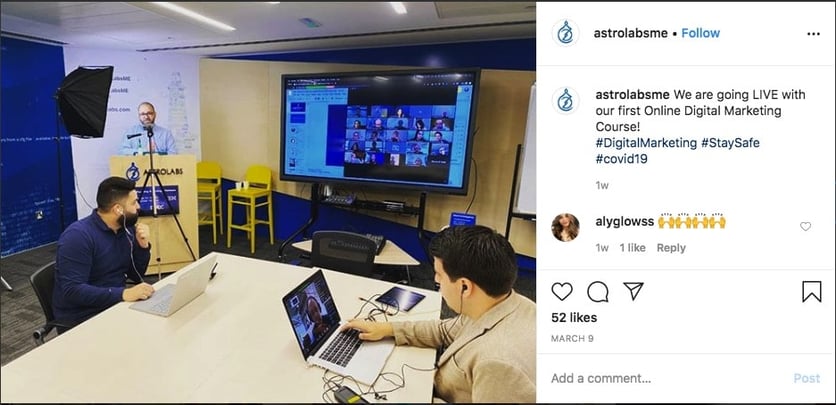 Another example to learn from is SAE Institute - a media training center that predominantly offered on-site classes.
They were quick to adapt and digitized their classrooms to evolve into online training providers.
The lesson here is - If they can do it, you can too.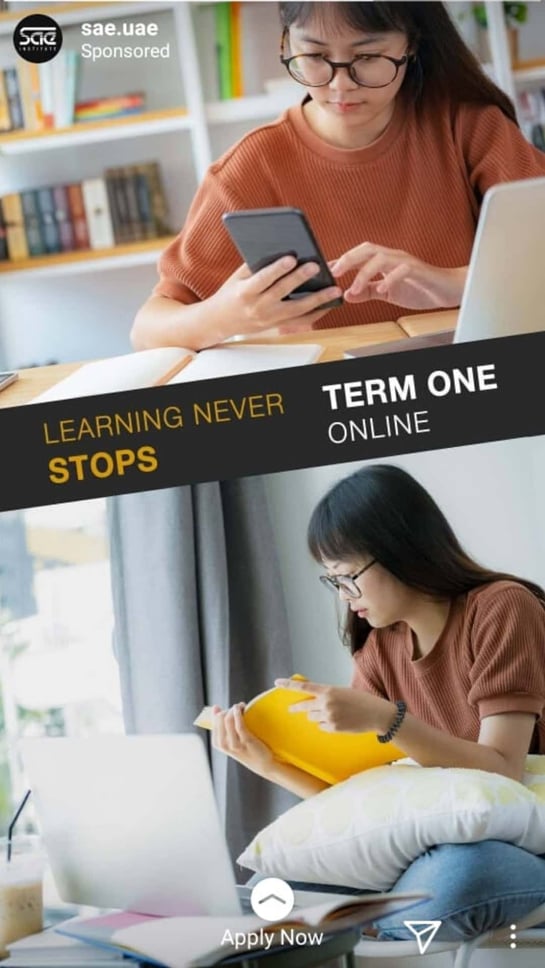 ---
4) Restaurants & Cafes: Focus on Deliveries!
With people confining themselves indoors and the government laying down regulations about closing down restaurants and cafes for dining in, the only way to survive is to heavily promote your deliveries and take-away services.
A lot of local eateries (like the one below) have been heavily promoting their delivery services to compensate of the lack of dine-ins.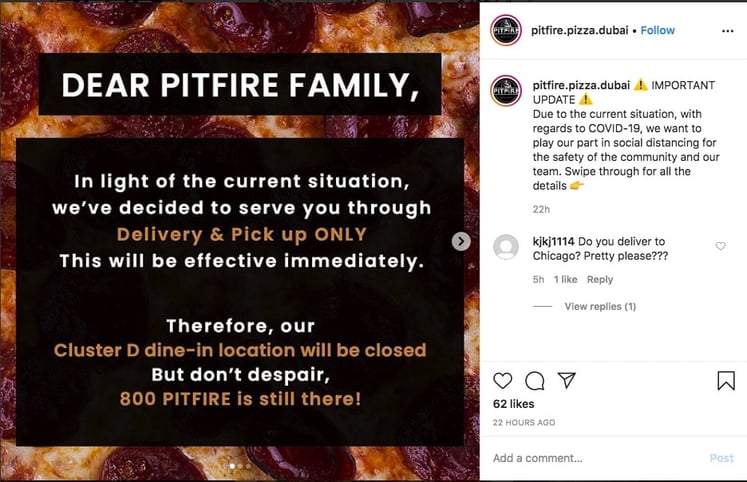 Now is the perfect time to promote your dishes and partner with food delivery providers to stay afloat amidst the lockdown.
Over the past few weeks, several trends have emerged within the food and delivery industry, one of them being "contactless" deliveries in which delivery workers leave packages at the door.
This is an attempt to reduce the fears of virus transmission and gives customers more encouragement to order out.
Curbside pickup has also gained popularity among food and grocery vendors, as well as retailers like Dick's Sporting Goods, Michael's and many others.
We've written an article (link below) to help you market your restaurant & cafe on social media for maximum visibility.

We'd also like to give a special mention to supportlocalrestaurants.com.
An excellent initiative by Food Sheikh and ChatFood to help small and local restaurants escape high-commissions and other hefty costs paid to online ordering services (you know who)
This helps local restaurants keep more money for themselves to pay for inventory, staff salaries, rents and other business expenses.
If you know of any such superhero services, please let us know so that we can include them in this article too.
---
5) Promote your Gift Cards and Offers
Gift cards provide you with an immediate infusion of cash and guarantee that a customer will return to your business in the future.
Many businesses, regardless of what vertical they fall under can utilize gift cards to maintain cash flow until the crisis passes.
For example, customers in Seattle are going out of their way to make sure local cafes, bars, and eateries don't go under, and gift cards provide an easy way to keep cash flow moving.
Offer an e-gift card program to reduce the risk of human contact, or work with a third-party delivery partner like Uber Eats to accept their gift cards at your location.
You could also sell memberships and services at special rates to redeem once the Covid-19 crisis is under control.
These offers will help you gain business at a time when your services are fully operational.
Here's one good example by a local fitness studio called Symmetry Gym.
They're honest, transparent, bold and genuinely provide fitness training that works.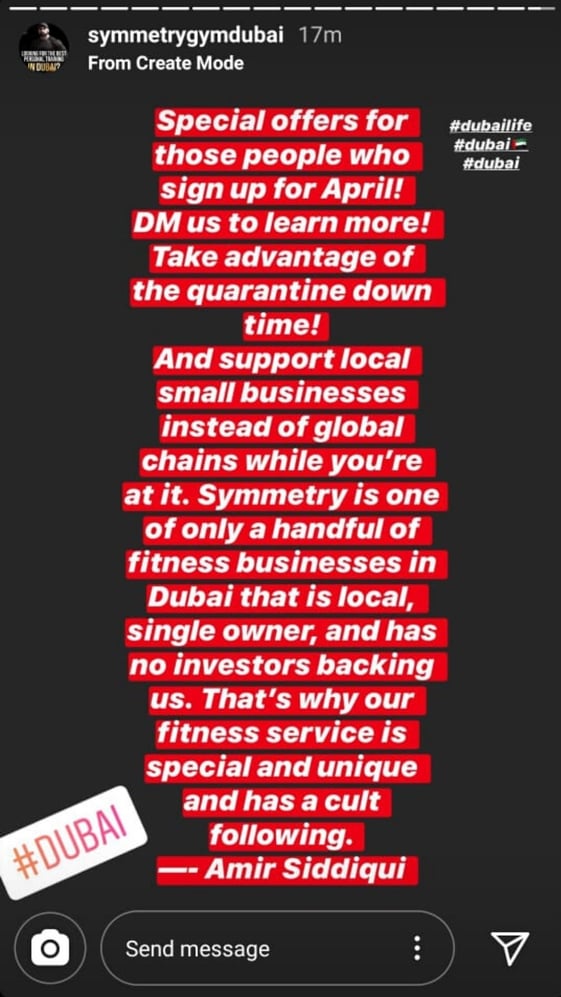 ---
Useful Links for Additional Reading: