Ecommerce businesses need to make data-backed decisions.
Emphasizing key metrics to drive insights into growth can transform your business verticals.
Consider data as a storyteller who tells you the exact tale of your clients — how they are engaging with your products, their buying pattern, their journey, and how they make a purchase decision.
And this is why it gets crucial to leverage various analytics and reporting tools for your eCommerce website.
Competitive analysis and reporting are one of the 15 most in-demand marketing skills and it involves knowing about different reporting tools.
These tools help drive insights in your data with varying levels of information coupled with some degrees of sophistication.
Make sure you choose the best reporting tool for your eCommerce website that fits your business goals.
These tools are widely confined to creating reports and organizing information.
They're targeted at uncovering insights rapidly, even without complex visualization.
Fortunately, there are plenty of reporting tools for marketers that help deliver actionable insights with recommendations.
Let us check out five such reporting tools that are best for your eCommerce business.

Many eCommerce businesses find it tough to generate reports after gathering data from multiple sources.
Pick OWOX BI, a marketing analytics platform that centralizes the collection of unsampled information from an array of online and offline sources like Google Analytics, Google BigQuery, etc.
You can use OWOX BI to consolidate, clean, and organize data in real-time from ad providers, Google Analytics, website, CRMs, etc.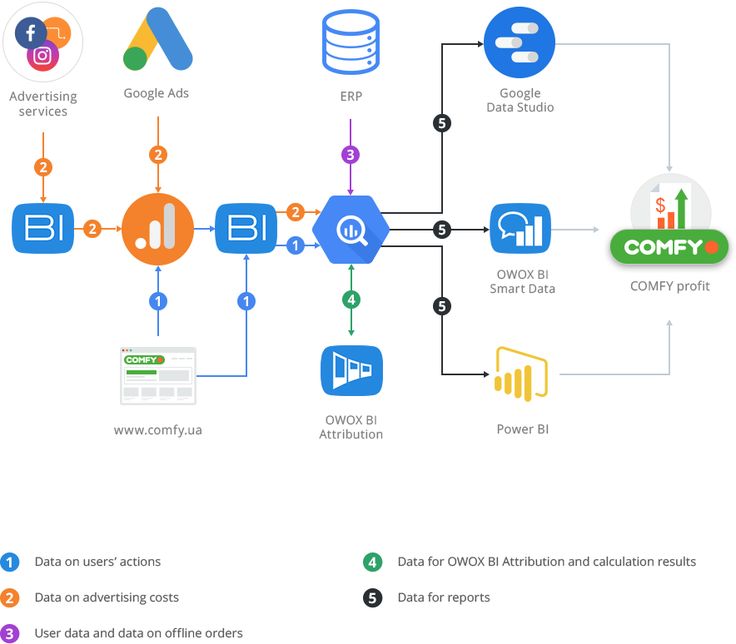 Image source: c00fb1095755e91f640e3c1513e64181.jpg (736×644) (pinimg.com)
Use the reporting capabilities that offer simple UI to utilize acquired data using OWOX BI Smart Data or export it to another application like Google Data Studio or Google Sheets.
Additionally, OWOX BI maintains the integrity of the data and allows changeable UTM parameters.
Leverage multiple integrations allowing you to automatically import your data to another BI tool or visualization services such as Looker, Tableau, or Microsoft Power BI.
---
There's a lot to evaluate for eCommerce marketers who need to strategize activities based on the user behavior analysis.
Using Google Data Studio dashboard can help bring data to life with a range of templates it offers for quick customization.
Certain templates provide a live preview using data from Google's properties.
For instance, the eCommerce shop template uses data from certain predefined categories to gain insights into the user experience.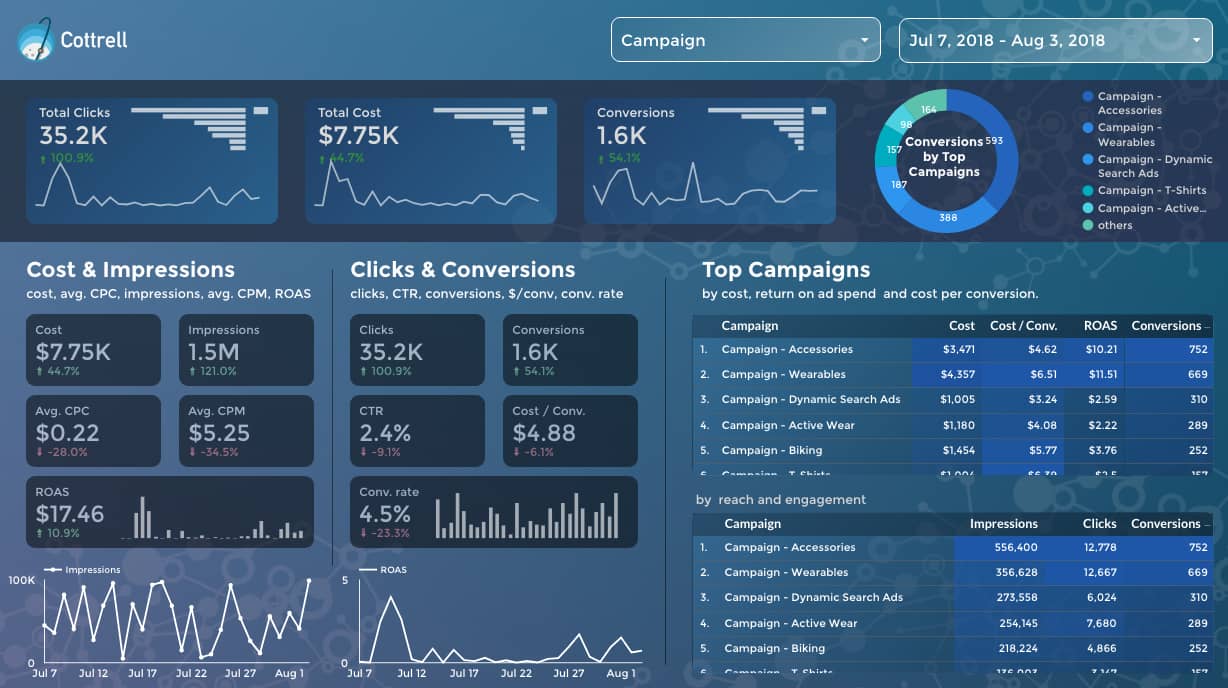 Image source: https://blog.prototypr.io/the-6-best-free-google-data-studio-templates-9825c7f0fbd9
Leverage Google Data Studio to yield insights that drive powerful eCommerce optimization.
This helps you track everything from your top referrers to your average order amount from a specific city.
These are significant data elements that may hugely impact revenue generation strategy when selling online.
---
You can go with Kissmetrics if you are looking for a comprehensive analytics solution at a pricing point comparable with enterprise-level functionality.
Kissmetrics blends critical eCommerce metrics like conversion rates, revenues, return on investment, and average customer value to provide a more customized experience.

For instance, you may associate data with a particular set of consumers, enabling you to follow their journey from beginning to end.
This way, you gain practical insights into buyer behavior and preferences quickly.
If your website is running on WordPress, it's easy to integrate Kissmetrics with your site using the plugin and also have custom WordPress development to ensure everything works smoothly.
Once done, you can segment your consumers into groups based on their mutual interests and habits.
This will help you find the kind of content or offers that resonate the most with certain demographics.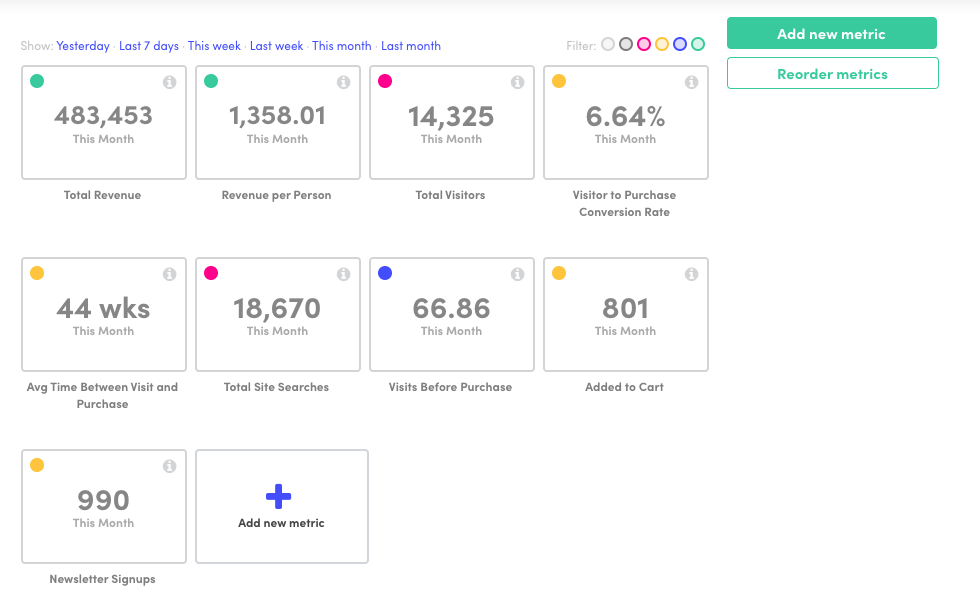 Image source: https://www.kissmetrics.io/ecommerce/
Ecommerce businesses who are ready to move on from Google Analytics will find Kissmetrics a suitable replacement.
Even while it isn't a free choice, the value it provides in terms of turning your raw data into actionable consumer insights using interactive reporting is unmatched.
All of your essential KPIs will be available on single, easily-customizable reporting dashboards that you can see in real-time for quick decision-making.

---
If you are looking for a tool having advanced analytics capabilities, then your search ends at Mixpanel.
It offers a comprehensive reporting solution that provides insight into engagement and buying patterns.
You benefit from graphs illustrating how consumers interact with certain items over time and how various features impact user behavior.
If you want to track the performance of a product, Mixpanel offers a way to create reports pivoting the product(s) separately.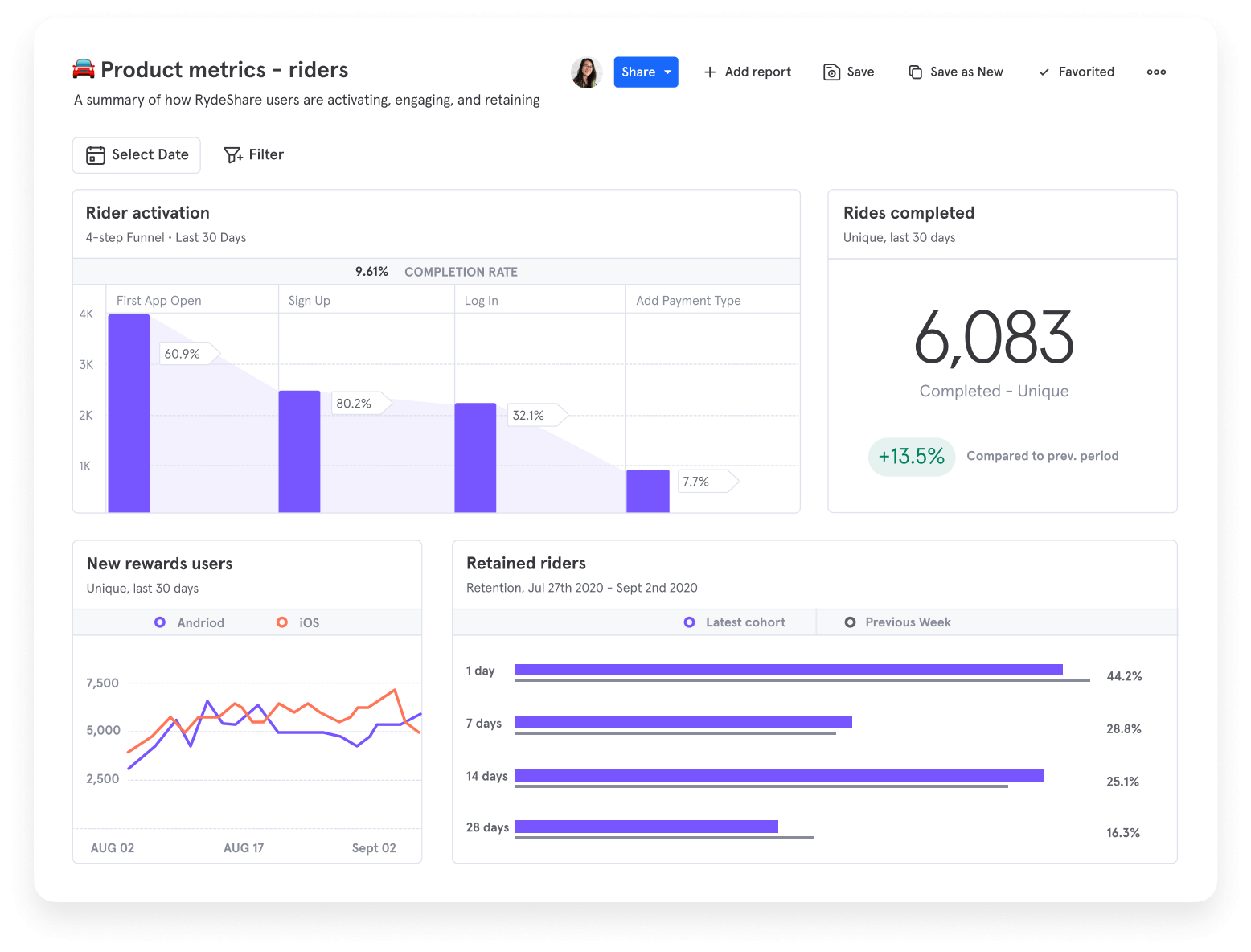 Image source: https://www.getapp.com/business-intelligence-analytics-software/a/mixpanel/

Such product-specific insights aim to put your product in the spotlight and drive more sales by implementing the right techniques.
Identify where consumers are most likely to abandon your funnel and see how various subsets of your audience behave with Mixpanel visualization that lets you see the customer experiences.

---
Most of the lightweight dashboards restrict you from exporting reports as spreadsheets or PDF files.
Now, if you are looking for more customized or client-facing eCommerce reports, you must create them manually using other tools like Google Sheets, PowerPoint, etc.
Using TapReports, you can create stunning PowerPoint-style marketing reports that highlight your eCommerce site's key performance indicators (KPIs).
Marketers can use it to create and share last-minute reports in a snap.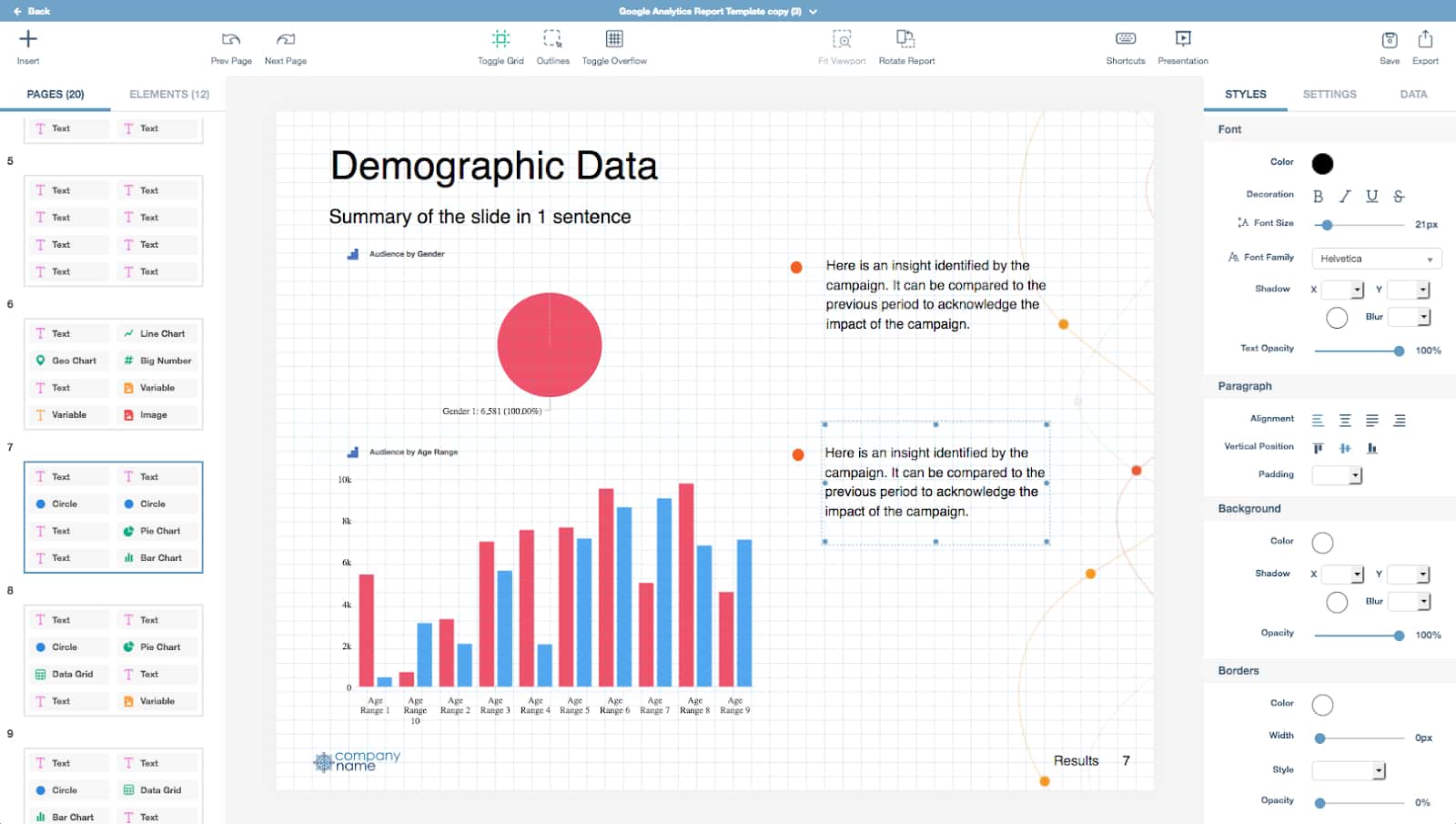 Image source: https://support.tapclicks.com/hc/article_attachments/360053844413/5df2a519cb06b.png
Custom dashboards show you the data that matters to make key decisions.
Also, you can use its marketing reports to see real-time results of efforts that you put into any product.
As with all dashboards, the templates are white-label, allowing you to customize the branding and color palette to fit your business identity.
You can also choose recurring reports that greatly reduce the time required to prepare eCommerce marketing strategies based on key reports without affecting the quality.
---
Conclusion

The key to picking any eCommerce tool is knowing what you expect out of it.
Given enough time, most businesses could evaluate their data for free using a mix of Google Analytics and native analytics in their eCommerce platforms.
Additional Reading:
eCommerce Web Design: 9 point checklist to build a winning eCommerce website
Inbound Marketing ROI: Measuring the 8 Metrics that Matter
Marketing to Millennials in the MENA: Best Tactics, Strategies & Stats